Iran's President Mahmoud Ahmadinejad Not Afraid of USA or Israel
By Turjo, Gaea News Network
Monday, August 23, 2010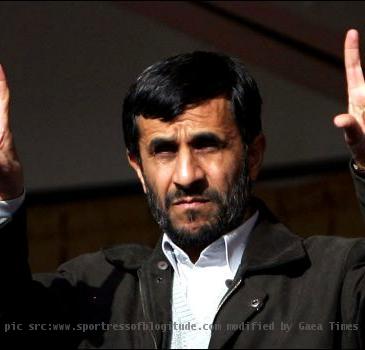 more images
TEHRAN (GaeaTimes.com) — It seems that Iranian President Mahmoud Ahmadinejad has suddenly become outspoken against United States and Israel's threat to attack Iran. He has told that Israel is too weak to attack the Islamic Republic. Moreover he has promised to help any country in the region which is threatened.
Mahmoud Ahmadinejad has told that Persian Gulf states are "too smart" to allow the U.S. to use bases on their territory for a strike on Iran. In an interview, the president also said he does not fear an attack by the U.S. because it could not even defeat a small army in Iraq. He is of the opinion that Washington has no real motive to attack Iran and they would not benefit from hostilities.
He went on to say that Iran is working to produce nuclear fuel independently "because receiving it from an outside source is conditioned on diplomatic criteria."
Moreover he commented that they need 20 more power plants like the one in Bushehr in future.