President Barack Obama's Speech In Indian Parliament
By Swatilekha Paul, Gaea News Network
Tuesday, November 9, 2010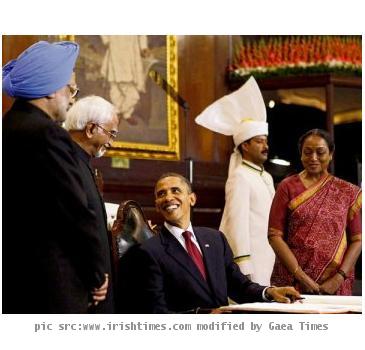 more images
NEW DELHI, INDIA (GaeaTimes.com)- During the last leg of his three-day trip to India, United States President Barack Obama addressed the Indian Parliament on Monday evening. The speech in which the United states President addressed the members of the Parliament lasted for about 40 minutes and the manner in which it unfolded clearly pointed out that President Barack Obama had done his homework well. With his speech in the Indian Parliament on Monday, the U.S. President became the fourth American commander-in-chief to do the same.
Recognizing India's contribution to the world, President Barack Obama said in his speech to the Indian Parliament that the civilization of the nation "has been shaping the world for thousands of years" while also remembering those who shaped the country during the Independence struggle as well as later which includes Mahatma Gandhi, B.R. Ambedkar, Rabindranath Tagore, among others. One of the high points of his address to the members of the Indian Parliament was when he noted the contribution of Mahatma Gandhi on American politics as well as Martin Luther King by saying that he would not have been standing here as the U.S. President if it was not for Mahatma Gandhi and his message to the world as well as America.
However, President Barack Obama attracted the most thundering applause from the audience during his speech to the Indian Parliament when he noted that he was looking forward to a reformed United Nations Security Council which would have India as a permanent member. Given the spectacular orator that he is, it became quite evident that President Barack Obama was able to win the hearts of the audience with the magic of his words as he was honored with a standing ovation.