WikiLeaks' Revelations About India
By Arnab Ghosh, Gaea News Network
Tuesday, November 30, 2010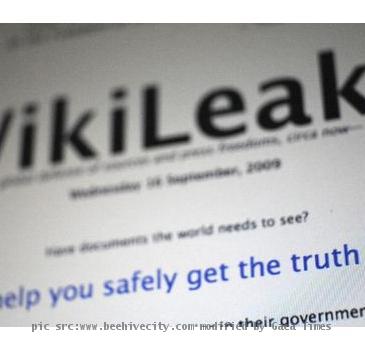 more images
NEW DELHI, INDIA (GaeaTimes.com)- The fear that U.S. had over the recent revelation of WikiLeaks, the famous whistle blower website is turning out to be true. Pentagon had worries that the recent revelation may affect the diplomatic relation of U.S. with its allies and other countries. Therefore, the US officials informed India and some other countries that USA has good relation with, about the latest leak which reportedly involves as many as 250000 documents. The latest update on this front is that India has been assured by US that there is not much to read into the statement made by Hillary Clinton about it. The reassurance comes after a WikiLeaks disclosure showing Hillary Clinton talking about India as a "self-declared frontrunner" for United Nations Security Council's permanent seat.
More revelations about the controversial statements of the U.S. political leaders about the leaders of US allies are expected to be revealed by WikiLeaks soon. This can put the U.S. government into further embarrassment. Not long ago, WikiLeaks showed sensitive footages about US atrocities in Afghanistan which left the Pentagon red faced. More cables about India are likely to hit the web soon and it remains to be seen, how U.S. copes with those revelations and explains its stand. The U.S. officials have also stressed upon the need to bolster the ties between India and USA for a "long-term strategic partnership". They have also refereed to the recent trip of President Barack Obama to India.
The founder of WikiLeaks Julian Assange shows no sign of budging from his position despite strong criticism from United States and some other countries about the activities of WikiLeaks. He has not divulged the details about the recent revelations about India as such.