Julian Assange Being Pursued
By Priyanka Roy Chowdhury, Gaea News Network
Sunday, June 13, 2010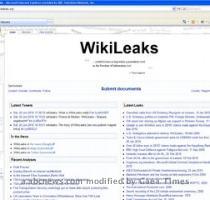 more images
WASHINGTON (GaeaTimes.com)- Julian Assange, the founder of the website, Wikileaks, that posted a leaked videotape of U.S. soldiers firing at civilians that included children and two journalists is now being searched by American officials. According to reports, Julian Assange was handed over not only the controversial videotape but also around 26,000 pages of diplomatic cables and American political assessment of many governments and leaders of the Middle East. The American officials fear that if like the already posted videotape the diplomatic information as well is made public by Julian Assange in his website, it might threaten the national security.
Julian Assange who is an Australian citizen is a frequenter of the United States. A media source claims that he was scheduled to be in New York at this time of the year but did not make his tour after he was asked not to by his lawyer. The search for Julian Assange began after the arrest of an U.S. soldier, Bradley Manning, last month. The soldier has reportedly confessed in front of the investigators that he had passed valuable confidential information to Julian Assange. Julian Assange has himself gone on to confess his possession of the 26,000 pages of information in his Twitter post recently.
However, the Pentagon has not yet issued any public statement regarding the issue. It has also not brought any criminal case against Julian Assange. It is still not clear whether Julian Assange has breached any federal security law by posting the Iraq videotape on the website. However, it seems that the Pentagon is at present only trying to find the whereabouts of the founder. One of the American officials has said "We'd like to know where he is; we'd like his cooperation in this".