Michael Steele Faces Criticism
By Madhusmita, Gaea News Network
Saturday, July 3, 2010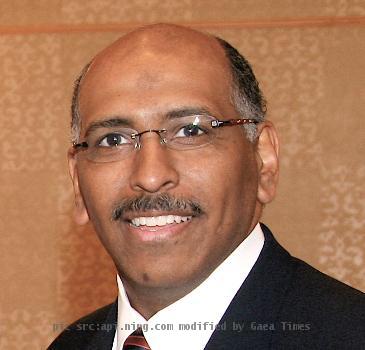 more images
WASHINGTON (GaeaTimes.com)- On Thursday, at the Republican fundraiser at Connecticut Michael Steele was videotaped while addressing to the people and his comments raised criticism and calls for his resignation. The videotape which was published on web raised a wave of disappointment from his own party Republican National Committee and also the other parties as he did not support President Barack Obama's decision for the war in Afghanistan.
Michael Steele in his speech said that President Barack Obama's "war of choosing" was not something United States had actively prosecuted or wanted to engage in. He also commented about the shift of base of U.S. military troops from Iraq to Afghanistan. He jokingly said that if the President was a student of history then he should have known that the war in Afghanistan is something unconquerable. This statement has infuriated his own party members as it sends both soldiers and funds for Afghanistan war.
Michael Steele, however, later made statement on Friday afternoon to clarify his remark and added that America must win the war of terror. He did not correct the factual error he made earlier about President Barack Obama's decision of war as it was actually George W. Bush who launched the war after the 9/11 attacks. The chairman had also said with a changed tone that for the sake of security of the country, U.S. must send "troops" and after the tragedy of September 2001 it is necessary for U.S. to win the war. William Kristol, editor of a reputed journal of U.S and leading voice of conservative support vehemently opposed his remark and called for his resignation. Many other spokesman of both Democratic and Conservative parties have called for his resignation as well.