Bill Clinton says midterm elections won't be as bad as when Democrats lost power in '94
By AP
Monday, February 22, 2010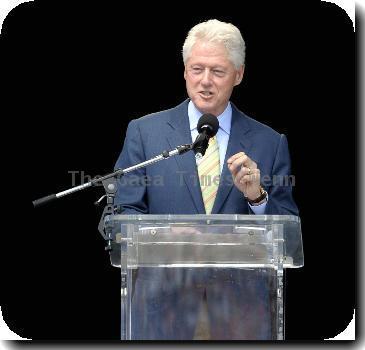 Clinton says midterm elections won't be as bad '94
WASHINGTON — Former President Bill Clinton said Monday he doesn't expect Democratic prospects this year "to be as bad as '94," when his failed drive to overhaul the nation's health care system helped Republicans win control of Congress.
In assessing what could be a potentially tough year for his party, Clinton said if Democrats catch a break with the economy and party leaders "kind of keep their heads on straight and keep focusing on the need to show up and get counted, I don't think it'll be as bad as '94. I think we'll do much better."
The former president's remarks in an interview with Fox News came as President Barack Obama released his most detailed plan yet for health care. Obama is also scheduled to hold a televised, bipartisan health care summit Thursday, as he seeks a fresh direction with the stalled issue.
Every seat is up in the House this fall, along with at least 36 in the Senate. Republicans would have to gain 40 seats in the 435-member House and 10 in the 100-member Senate to control Congress.
Democrats already have faced one setback this year. Republican Scott Brown's win in the Massachusetts Senate race denied Democrats their 60-seat majority. He took over the seat of the late Democratic Sen. Edward Kennedy earlier this month.
On other topics, Clinton said he is looking forward to his daughter Chelsea's wedding. The only child of the former president and Secretary of State Hillary Rodham Clinton is engaged to her longtime boyfriend, Marc Mezvinsky.
"All I'm supposed to do is walk her down the aisle — and pay for the wedding, of course," Clinton said. "And that will be one of the great honors of my life … And you know, I wouldn't mind being a grandparent and her mother really wants to be a grandparent."
Filed under:
Elections
,
Government
Tags:
Barack Obama
,
Bill Clinton
,
Edward Kennedy
,
Geography
,
Health Care Reform
,
Mid-term Elections
,
North America
,
Political Issues
,
United States
,
Washington