Nancy Pelosi To Bow Out
By Arnab Ghosh, Gaea News Network
Wednesday, November 3, 2010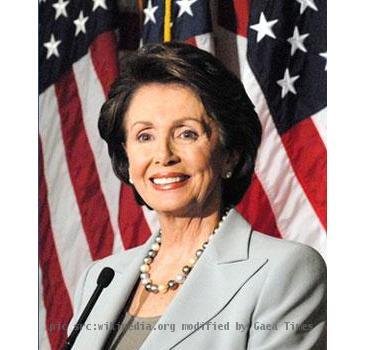 more images
WASHINGTON (GaeaTimes.com)- In a development that may turn the political scene in the USA the voters gave a thumb down to House Speaker Nancy Pelosi and she is on her way out. Even though the Democrats still hold the majority the speaker is paving the way for her successor. The voters chose the GOP candidates over the ruling democrats in many places and a lot of incumbent democrats were toppled by their GOP challengers sending a strong message to the US government led by President Barack Obama. It was a stunning blow for her considering the efforts she had put in the last 4 years to make her party proceed through the obstacles put by the GOP. She was often criticized and attacked by the Republicans vehemently but that did not change her determination to bring the reforms proposed by the Democrats and she kept on saying till the last minute that the voters will back the democrats.
As a matter of fact the GOP lashed out at Nancy Pelosi in a number of ads, much more than they ever targeted the President in recent times. She appeared upbeat even on the day which brought the notice of her downfall. She talked positively about the prospect of the democrats. The Speaker said on Tuesday "We are not going back to the failed policies of the past. We are fighting for the middle class".
However, sources close to Nancy Pelosi are saying that deep inside her heart she could sense a change was coming. She cut down campaigning in public for the midterm election for that. She concentrated on fund-raising instead. Even after the verdict she tried to put up a brave face and said the efforts of Democrats should not be undervalued.