Nikki Haley Wins Governor Race
By Tias, Gaea News Network
Wednesday, November 3, 2010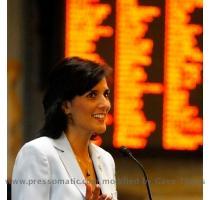 more images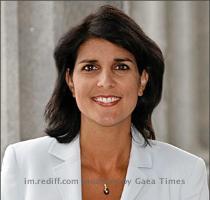 more images
Columbia (GaeaTimes.com)- South Carolina has selected a new Governor and it is none other than the Tea Party backed Indian American candidate Nikki Haley. In what was a nail biting clash between Democrat Vincent Sheheen and the 38-year old mother of two, Nikki Haley emerged victorious with 52% of the votes. She will take over as the governor after the tenure of Mark Sanford ends in January next year.
Political experts have been all praises for Nikki Haley and also said that the political climate in South Carolina favored the Republicans. Post her four way primary victory, Nikki Haley rose as a prominent figure in the national political scene since the beginning of her run for governor. She was also plagued with some controversies in her private life and her personal taxes. Opponent Vincent Sheheen used the issues against her in his campaign, but it appears the South Carolina residents found her policies and claims to be more likeable. Advocating the reduction of the state's expenses, the rejection of federal help and also a fight to the Supreme Court of a new health care reform, Nikki Haley had a lot going in her favor as a governor hopeful.
Many have also supported Nikki Haley's focus on the quality of jobs in the state rather than the quantity. Her campaign was strongly backed by Sarah Palin. She will not only become the first woman Governor for the state of South Carolina but also the second Indian-American for the post after Bobby Jindal. She was born to Sikh immigrants but is now a Methodist.
Filed under:
Democracy
,
Elections
,
Government
,
Politics
,
Voting
Tags:
Columbia
,
Nikki haley
,
Republican
,
South Carolina
,
Tea party
,
United States
,
Vincent Sheheen