North Korea must cease 'provocative and belligerent behavior'
By Avik, Gaea News Network
Tuesday, December 7, 2010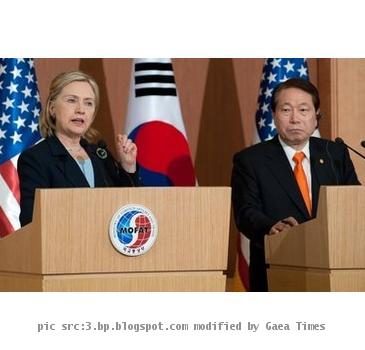 more images
h KOre
WASHINGTON (GaeaTimes.com) — An ally of the U.S. , China and South Korea came to an unanimous decision and warned North Korea of 'severe consequences' for further attacks. Hillary Clinton — the U.S. Secretary of State and her South Korean and Japanese counterparts jointly condemned North Korea on Monday for recent attacks.
Hillary Clinton had some discussions at the State Department in Washington with South Korean Foreign Minister Kim Sung-hwan and Japanese Foreign Minister Seiji Maehara and after which she stated,
We all agree that North Korea's provocative and belligerent behavior jeopardizes peace and stability. We want the people of South Korea to know we are standing shoulder-to-shoulder with you and that we are deeply committed to your defense..
South Korean Foreign Minister was quite furious and stated, that the United States, Japan and South Korea all "share the view that North Korea will face severe consequences" if it carries on with further attacks.
Capt. John Kirby, a spokesman for Mullen clearly mentioned,
The principal message is to the South Koreans that we continue to stand by them in the defense of their territory, for stability on the peninsula.
Kirby also added that the situation in the peninsula could be tense but is pretty much stable nevertheless.
Barack Obama also sent his regards in terms of financial support. Thus, the facts and figures clearly depict that North Koreans don't stand a chance against the Southern counter-part having immense political support.