President Obama talks with Chinese President Hu Jintao on Korean Issues
By Avik, Gaea News Network
Monday, December 6, 2010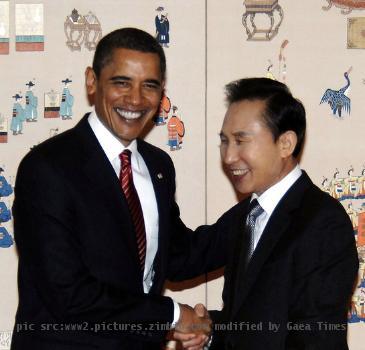 more images
WASHINGTON (GaeaTimes.com) — The U.S. president firmly stated that North Korea needs to "halt its provocative behavior". He was in a conversation with Chinese President Hu Jintao, the White House said when he stated this.
The Chinese President happened to be eying on a "calm and rational response from all sides to prevent the deterioration of the fragile security situation," according to the state-run Xinhua news agency.
Well, as because the vast time difference between the two lands, it was Monday in China, but Sunday evening in Washington as the phone call took place.
Reportedly, it was only after the scheduled talks on Monday between U.S. Secretary of State Hillary Clinton and the top diplomats of Japan and South Korea on the rising tensions in the region that the call came in.
The Korean tension has been growing more and more since November 23, that was as North Korean forces launched an artillery barrage that killed four people on the South Korean island of Yeonpyeong. On the other hand, Pyongyang accused the South of provoking the attack, which allegedly injured 18 people, because shells from a South Korean military drill landed in the North's waters.