Ivory Coast: Election Results Spark Violence
By Tias, Gaea News Network
Wednesday, December 1, 2010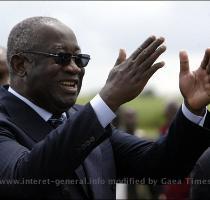 more images
ABIDJAN, IVORY COAST(GaeaTimes.com)- It looks like the troubles in Ivory Coast is not going to end so soon as fresh reports of violence emerged ahead of the declaration of the leadership elections. The reports indicated that the opposition had taken an early lead in the elections but the ruling party loyalists prevented the commission from announcing the first batch of results.
The tension in Ivory Coast has escalated over the last two days as there were reports of violence at the country's commission headquarters. To add to the troubles the results of the elections could not be declared in spite of the polls closing two days ago. On Tuesday, Bamba Yacouba, the spokesperson of the electoral commission was preparing to announce the results of the first batch of results when ruling party member Damana Picasse snatched the papers from his hand and tore them apart. He also yelled that his party did not sign on the results.
This was the third time that the proclamation of the results were delayed in the country. The streets cleared quite early on Tuesday as many feared violence. Most shops were closed as well. Though Ivory Coast President Laurent Gbagbo and opposition leader Alassane Ouattara vowed earlier that they would accept the outcome of the election results, the ruling party members alleged that opposition party members abused the rules of the election and alleged that they had stolen ballot boxes and even held the opposition party members hostage. The EU observer mission in Ivory Coast, however, said in a statement that the voting was fair. They said that they found no major problems in 95% of the polling booths that the commission had visited.
Filed under:
Democracy
,
Elections
,
Government
,
International Relations
,
Political and Civil Unrest
,
Politics
,
Voting
Tags:
Abidjan
,
Alassane Ouattara
,
Electoral Commission
,
Ivory Coast
,
Laurent Gbagbo