AP Cabinet Sworn Today
By Reema, Gaea News Network
Wednesday, December 1, 2010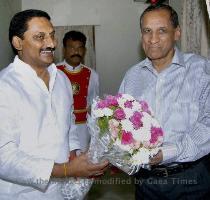 more images
HYDERABAD, INDIA (GaeaTimes.com)- The new ministry of Andhra Pradesh took over the charge of the state on Wednesday at Raj Bhavan in Hyderabad. Chief Minister N Kiran Kumar Reddy has sworn with his team of 39 AP cabinet members.
As expected by many people resigned leader YS Jaganmohan Reddy's uncle, YS Vivekananda, is now part of the new AP cabinet. Out of the 39 new members in the cabinet, 10 are new faces. Kiran Kumar Reddy has refused to include all those people who are loyal to YS Jagan, who resigned from Congress and the Kadapa MP post on Monday. the members whom the new chief minister refused to include in the AP Cabinet are Balineni Srinivasa Reddy, Pilli Subhash Chandra Bose and P R Reddy from Chittoor district. However, although he announced his cabinet members, he did not announce who would be the deputy CM under his reign.
The name of the AP cabinet members are Dharmana Prasad Rao, S. Vijayarama Raju, Botsa Satynarayana, T. Balaraju, from East Godavari, P Vishwaroop and Thota Narasimham from the North Coastal Andhra. M. Venkataramana, Kanna Laxminarayana, Manikya Vara Prasad and Kasu Krishna Reddy from Guntur. Vasant Kumar, P. Satyanarayana Krishna and K. Parthasarathy from West Godavari. M. Maheedhar Reddy and Anam Ramanarayana Reddy from From Prakasam and Nellore respectively. Galla Aruna Kumari from Chittor, Ahmedulla, D.L. Ravindra Reddy and Y.S. Vivekananda Reddy from Kapada. Pratap Reddy and T.G Venkatesh from Kurnool, N Raghuveera Reddy and S. Sailajanath from Anantpur. Danam Nagender, Mukesh Goud, P. Shanker Rao have been selected from Hyderabad. Komatireddy Venkat Reddy and Jana Reddy have been selected from Nalgonda, while R. Venkat Reddy from Khamman. Sudershan Reddy and Sridhar Babu have been taken from From Nizamabad and Karim Nagar respectively.
Filed under:
Cabinets
,
Democracy
,
Elections
,
Government
Tags:
Andhra Pradesh
,
AP Cabinet
,
Botsa Satynarayana
,
Dharmana Prasad Rao
,
Hyderabad
,
India
,
N. Kiran Kumar Reddy
,
P Vishwaroop
,
S. Vijayarama Raju
,
T. Balaraju
,
Thota Narasimham
,
Y.S. Jaganmohan Reddy