Yedyurappa Eludes BJP Heads
By Tias, Gaea News Network
Monday, November 22, 2010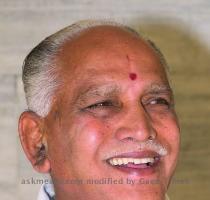 more images
BANGALORE, INDIA (GaeaTimes.com)- B. S. Yeddyurappa has found himself in the news once again as he is yet to respond to the summons by the BJP top brass who wanted to face him over the recent controversy. The BJP leaders were supposed to confront the Karnataka Chief Minister over the issue of his continuance in office over the alleged land scams but B S Yeddyurappa has kept his own party members guessing. He canceled his Delhi trip on November 21 in spite of the BJP making it clear that it wants him to quit. The party also tried to send the message through one of his sons, but the Karnataka Chief Minister has remained defiant in his stance.
A source close to the chief minister said that it is unclear whether B. S. Yeddyurappa will go to Delhi or not and also added that they were not in a position to comment on his future plans. Reports indicate that he has been consulting with his close aids on the course of the future actions. Some reports also indicate that B. S. Yeddyurappa has warned the BJP at the center that if he is ousted, the party will lose the government in the south for which he fought so hard. The BJP's core group met in New Delhi on Sunday and authorized Nitin Gadkari to take a decision about the continuance of B S Yeddyurappa in the post of the Karnataka Chief Minister.
The officials in B. S. Yeddyurappa office have remained tight-lipped on the matter and said that they want him to continue as there is no alternative to him. B S Yeddyurappa left for Puttaparthi in Andhra Pradesh to seek the blessings of Sri Satya Sai Baba yesterday after calling off his Delhi trip.