Hillary Clinton Cracks Joke On WikiLeaks
By Avik, Gaea News Network
Monday, December 6, 2010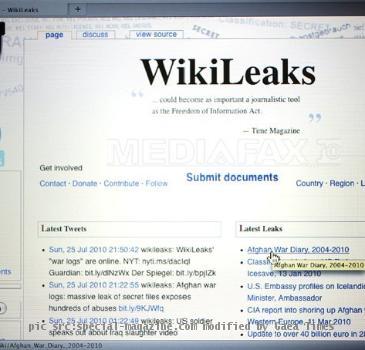 more images
WASHINGTON (GaeaTimes.com) — Reportedly, Lady Clinton, Secretary of State, took up the lighter side of the popular WikiLeaks controversy while at a dinner on Saturday night for the Kennedy Center honorees.
Amidst enjoying the "breadth and depth of American artistry," she stated that,
I am writing a cable about it, which I'm sure you'll find soon on your closest website.
The WikiLeaks web site allegedly started of with posting the first of more than 250,000 State Department documents last week. Hillary Clinton was forced to reach out to officials in countries all over the world in an attempt to diminish the fallout from the document dump.
The dinner was held at the annual award ceremony held at the Kennedy Center. Every year individuals are honored for their active participation and valuable contribution to the arts. Among the honorees this year are Paul McCartney and Oprah Winfrey. They will be hosted by the president himself and the first lady at a reception at the White House Sunday afternoon before the awards gala at the Kennedy Center Sunday night.
– courtesy to CNN Senior State Department Producer Elise Labott