President Lee Myung-bak Criticizes North Korea's Attack
By Swatilekha Paul, Gaea News Network
Monday, November 29, 2010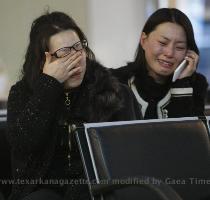 more images
SEOUL, SOUTH KOREA (GaeaTimes.com)- With tension heightening in the Korean peninsula in the wake of the artillery duel between North Korea and South Korea, South Korean President Lee Myung-bak addressed the nation on Monday in which he described North Korea's attack as 'inhumane.' The South Korean President had come under the scanner supposedly for inept handling of the war-like situation that the two Korean nation got involved into last week. South Korean President Lee Myung-bak has to face the ire of many critics who slammed South Korea's counter-fire response to North Korea's attack as weak. This was the very first time that the South Korean leader was addressing the nations since the deadly attack that was sparked by North Korea targeting an island across the border, that claimed four lives and injured many others.
In his first television address to the nation, South Korean President Lee Myung-bak reiterated that he could not but express anger that the show of sheer brutality of the part of North Korea while adding that the nation would have to pay the price for such an inhumane act. At the same time, the South Korean leader also emphasized that with last week's attack, the people of the nation have now realized that showing tolerance or patience would only result in more provocative acts from the rival country.
President Lee Myung-bak also hinted that if North Korea continues to indulge in acts of provocation then the rival nation would also answer back with the same vengeance. Although heated exchanges in the border regions of the two nations is not uncommon, for the first time during last week's attack, a residential island was targeted.