Tom DeLay Convicted
By Madhusmita, Gaea News Network
Thursday, November 25, 2010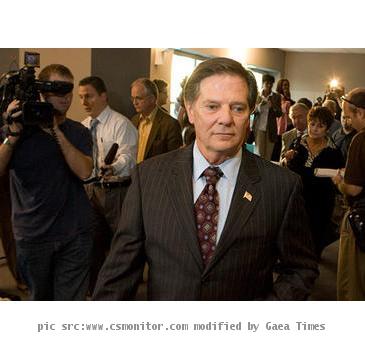 more images
AUSTIN (GaeaTimes.com)- The former member of U. S. House of Representative Tom DeLay has been convicted Wednesday on charges of illegally laundering corporate money to Texas candidates in 2002. The jury in Texas court deliberated for 19 hours before reaching the verdict which carries seven to 20 years of life in prison for money laundering. Tom DeLay, once the most powerful Republicans in Congress said that he would appeal against the conviction.
The jury found Tom DeLay guilty and convicted him of one charge of money laundering and one charge of conspiracy to commit money laundering. Tom DeLay, who is famously known as "The Hammer" said outside his courtroom to the media outlets that the judgment is an "abuse" of power and it is completely a "miscarriage" of justice. However, the former House of Representative claims that he still maintains his innocence and he would stand against all sorts of criminalization of politics. Tom DeLay presently remains out of bond and reporters say that his sentencing would begin on December 20.
Travis County District Attorney Rosemary Lehmberg said that Tom DeLay's case is a message to the public officials who are elected by the Texas citizens that the officials should perform their duties with honesty and ethics. Rosemary Lehmberg also said that if the representatives of people do not perform their duties, they will be held accountable by law. The Prosecutors claimed that Tom DeLay collected $190,000 through his own group and also conspired with two other associates John Colyandro and Jim Ellis to use the money to political campaigns. However, in Texas it is a crime to use corporate money to political campaigns. Tom DeLay has chosen Senior Judge Pat Priest to sentence him.