With ex-President Carter in North Korea, Kim Jong Il slips over to China, teachers there say
By Scott Mcdonald, AP
Thursday, August 26, 2010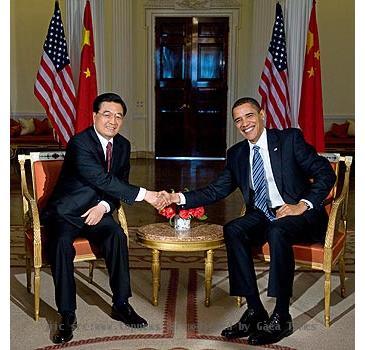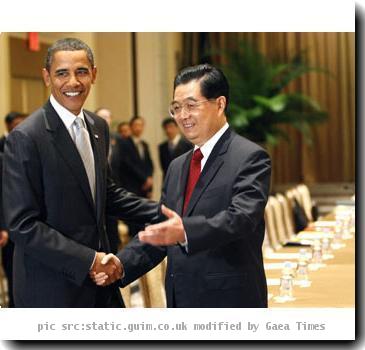 NKorea's Kim visits Chinese school, teachers say
BEIJING — North Korea's reclusive leader Kim Jong Il was in China Thursday on his second visit this year to his country's biggest source of diplomatic and financial support, according to teachers at a school he visited.
The visit, which has not been announced by either country, is highly unusual, coming just three months after the last visit of Kim, who rarely travels and when he does goes by train. It came particularly as a surprise because former U.S. President Jimmy Carter is in North Korea and many had speculated the two would meet.
But his stop in Jilin city in northeastern China was confirmed by two teachers at the Yuwen Middle School, which Kim's father, late President Kim Il Sung, once attended.
"He definitely came over. But I'm not sure if his son was with him or what time he came," said a physical education teacher who would give only his surname Zhao.
Another teacher said Kim visited the school in the morning for about 20 minutes. He refused to give his name.
Kim may be traveling with a son to consult with Chinese officials on plans to transfer power to a successor, South Korea's Yonhap News Agency and YTN television in Seoul said.
It's widely believed that Kim is preparing to transfer power to his third and youngest son, Kim Jong Un, and many North Korea watchers believe the son will be granted a key party position next month.
Kim Il Sung attended the school from 1927 to 1930 after his family fled the Japanese occupation of Korea. At the time, Yuwen was a hot-bed of leftist thinking. Biographies of Kim say that he began absorbing communist ideology while at Yuwen. In 1928, Kim organized protests against "reactionary teachers" at Yuwen in addition to demonstrations against Japan and the purchase of Japanese goods, according to the Jilin provincial government's website.
North Korea watchers puzzled over the timing of the visit — so soon after his last trip to China, during Carter's mission and just weeks ahead of an important meeting of Kim's ruling Workers Party.
"He should be seeing Carter, but perhaps he has lost all hope in the U.S." said Cui Yingjiu, a retired professor of Korean language at Peking University in Beijing who was a schoolmate of Kim's in the 1960s and retains ties to the North Korean elite.
China's continued support is crucial for pressing issues on Kim's agenda and are likely to dominate the Workers Party meeting in September: anointing his son as successor and taking steps to revitalize the economy.
"At the September party congress we'll see if they are really willing to emphasize the economy over the military," said Cui. "Internally, they have already made the third son the successor."
North Korea announced in June that new ruling Workers' Party leaders would be elected in early September, sparking speculation that the move is aimed at boosting a government campaign to hand over power to a Kim heir.
Speculation on the succession intensified after the 68-year-old Kim reportedly suffered a stroke in 2008. Kim's health problems prompted concerns about instability and a possible power struggle in the nuclear-armed country if he were to die without anointing a successor.
Northeast China holds historical significance, with the 100th anniversary of Japan's annexation of Korea on Sunday. There has been a series of events in North Korea marking the anniversary and emphasizing Kim Il Sung's patriotic guerrilla roots that may help further their succession cause.
Other bilateral issues include China's attempts to restart six-nation talks on ending the North's nuclear program. North Korea walked away from the nuclear disarmament talks last year in protest at an international condemnation of a long-range rocket launch. Prospects for restarting the talks were put into doubt after a South Korean warship sank in March, killing 46 sailors. A Seoul-led international investigation blamed Pyongyang for torpedoing the ships. North Korea denies involvement.
China's top nuclear envoy, who was in Pyongyang last week, is visiting Seoul but said he couldn't confirm Kim's trip. Wu Dawei said it was normal for leaders of China and North Korea to exchange visits.
North Korea also leans on China for financial support, and may need more help after floods hit areas near the Chinese border this summer.
There was no comment from China's Foreign Ministry or from the Communist Party's international liaison department, which deals with relations with North Korea.
Kim last visited China in May, meeting top leaders, including President Hu Jintao. It is not known who he will meet on this trip, although someone of his stature would likely meet a senior leader. The Tokyo Shimbun reported that Chinese Vice President Xi Jinping was headed to Jilin to meet Kim.
The surprise trip comes as former Carter makes a rare visit to North Korea on a private mission to secure the freedom of an imprisoned American. There was no word on whether Carter — who met in 1994 with Kim Il Sung — had been scheduled to meet the current leader.
Carter, originally slated to depart Thursday, appeared to have extended his trip by at least a day, South Korea's YTN television reported in Seoul. It was not clear if it was still possible he could meet with Kim Jong Il, if the North Korean leader's trip to China was brief.
According to Yonhap, citing an unidentified high-ranking Seoul official, Kim's special armored train crossed the border into China early Thursday. YTN carried a similar report but said Kim arrived in China late Wednesday night.
Yonhap reported that Kim also visited Beishan park in Jilin, where the remains of many Chinese who fought against the imperial Japanese forces are buried.
Kim watchers will be eager to see television footage or photos of Kim to check his health. In May, footage run by Chinese state broadcaster CCTV, Kim appeared thin but vigorous in meetings with China's Hu and other officials.
Associated Press writer Hyung-jin Kim in Seoul and AP researcher Zhao Liang in Beijing contributed to this report.
Filed under:
Diplomacy
,
Government
,
International Relations
Tags:
Asia
,
Beijing
,
China
,
East Asia
,
Greater China
,
Hu Jintao
,
Japan
,
North Korea
,
Seoul
,
South Korea