Queen Noor Against Nuclear Weapons
By Ronee Roy, Gaea News Network
Saturday, June 12, 2010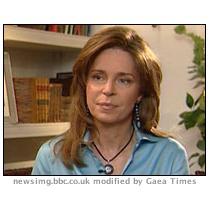 LOS ANGELES (GaeaTimes.com)- Queen Noor of Jordan graced Hollywood with her royal presence for the first time. The graceful royalty addressed a small group of reporters over lunch at the Four Seasons in Beverly Hills. Queen Noor is a special consultant in the upcoming documentary 'Countdown To Zero' which is directed by Lucy Walker.
She discussed the movie and her cause over lunch and she was joined by the producers of the film Lawrence Bender and Diane Weyermann of Participant Media. The two were also a part of the Oscar winning documentary 'An Inconvenient Truth'. The present documentary is set to release in the US in July this year. Queen Noor is also one of the founding members of Global Zero, an initiative that aims to eradicate Nuclear weapons all over the world. 'Countdown To Zero' is also on the same subject. The queen explained that the objective of the film is to show the reality behind the development of the nuclear bombs and to highlight the danger involved in them. She said that since nine countries possess weapons that can destroy the world it is important that the entire world understands the danger behind it. She added that the entire world is at a risk from the bombs that can go off due to variety of reasons that include terrorist attacks, human error and even failed diplomacy.
Queen Noor found the first version of the film, that was shown at the Sundance festival this year, to be too 'American-centric'. She thus suggested few changes that will make it more relevant to the global audiences. During the interview she also said that though she has given a million speeches on the subject, a documentary will have a more global impact.