David Petraeus Collapses During Hearing
By Priyanka Roy Chowdhury, Gaea News Network
Wednesday, June 16, 2010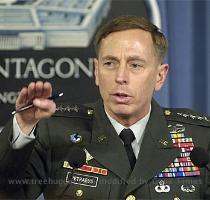 more images
WASHINGTON (GaeaTimes.com)- General David Petraeus, the commander who heads the U.S. Army action in the Middle East collapsed during the Senate Armed Services Committee hearing on Tuesday. He remained unconscious for few seconds and was attended by the military doctors in a private room. General David Petraeus however came back after twenty minutes to take further questions but the committee decided to postpone the hearing till June 16, Wednesday.
The sudden collapse of General David Petraeus worried many people including the President of United States Barack Obama. The White House spokesman Bill Burton said to media sources that the President was informed about the collapse of General David Petraeus and that the President called up the General to inquire about the matter. He also added that the President has said that the General was "doing great".
General David Petraeus was being questioned on the matter of the latest decision of the federal government to slowly withdraw forces from Afghanistan. He did not report of any illness when he entered the hall at the beginning of the hearing and had sat at the witness table for around an hour and answered to questions asked to him over the issue. However, he suddenly felt dizzy and collapsed on his table. He was attended immediately by the aides. After returning from a short break of twenty minutes David Petraeus said to the committee that the collapse was due to dehydration and added that he had not taken his breakfast in the morning. The General also jocularly added that he did not collapse due to the questions that were being asked by Senator John McCain who is the panel's senior Republican.