SKorea hands over letter officially referring NKorea to UN Security Council over ship sinking
By AP
Friday, June 4, 2010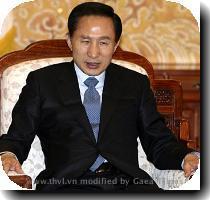 more images
SKorea seeks UN action against NKorea over ship
UNITED NATIONS — South Korea officially referred North Korea to the Security Council Friday over the sinking of a navy ship that killed 46 sailors and urged the U.N.'s most powerful body to take action.
South Korea's U.N. Ambassador Park In-kook handed over a letter to Mexico's U.N. Ambassador Claude Heller, the current Security Council president, asking for a response. Heller said he will circulate it to the 14 other council members and then initiate consultations on a reply.
Despite a history of animosity, South Korea's decision to seek council action was the strongest step ever toward making Pyongyang face international punishment.
The letter was delivered hours after South Korea's president, in a hard-hitting speech bereft of diplomatic politeness, called North Korea a liar and a threat to Northeast Asia.
"North Korea must admit its wrongdoing" and "pledge to never again engage in such a reprehensible action," President Lee Myung-bak said. "If the enemy continues to taunt us and think that they can do whatever they want they must understand that there is a limit."
They "must understand very clearly that they will have to suffer the consequences."
Lee, who was addressing Asia-Pacific defense ministers including U.S. Defense Secretary Robert Gates, called for international support to act against North Korea and its secret nuclear weapons program.
The Security Council has several choices, a resolution with or without new sanctions against North Korea, a weaker presidential statement calling for specific actions, or a press statement.
U.N. diplomats familiar with consultations on possible action against North Korea said China, the North's closest ally, is opposed to new sanctions and indicated the more likely result will be a presidential statement. The diplomats spoke on condition of anonymity because the contacts have been private.
Frosty relations between the Koreas have plunged since the sinking of the Cheonan in March, and tensions have increased in northeast Asia. An international investigation found the South Korean ship was torpedoed by a North Korean submarine.
When ambassador Park was asked at U.N. headquarters what kind of action South Korea would like, he replied: "I think the action which is commensurate with the gravity of this situation."
Speaking to reporters in Singapore after a meeting with South Korea's defense chief, U.S. Defense Secretary Robert Gates pledged American support for South Korea, whether it pursues a strong denunciation of North Korea or a milder reprimand.
Stopping short of a resolution — which China could veto — should not be seen as any weakness, Gates said.
A less confrontational option "may be more addressed to the worry about provoking further instability and further provocations from the North," he said.
Asked whether a toothless response from the U.N. would weaken the U.S. as it tries to deter the nuclear ambitions of both North Korea and Iran, Gates had a clipped reply.
"I don't think anybody believes the United States is a paper tiger."
Recent problems between South and North have involved Pyongyang's secretive nuclear weapons program.
Lee, the South Korean president, said the world is undergoing rapid changes and each country is trying to stay ahead.
"However there is one country in the world that still refuses to change. There is one country that is still living in the past. And that country is North Korea," he said. "North Korea, despite its appalling economy is still engaged in its attempt to become a nuclear weapon state."
Joshi reported from Singapore. Associated Press Writers John Heilprin at the United Nations and Anne Gearan in Singapore contributed to this report.
Filed under:
Diplomacy
,
Government
,
International Relations
Tags:
Asia
,
East Asia
,
Lee Myung-bak
,
North America
,
North Korea
,
Nuclear Weapons
,
Pyongyang
,
Singapore
,
South Korea
,
Southeast Asia
,
United Nations
,
United States
,
Weapons Administration
,
Weapons Of Mass Destruction