British premier tells Israel's Livni she's always welcome, despite arrest warrant
By AP
Wednesday, December 16, 2009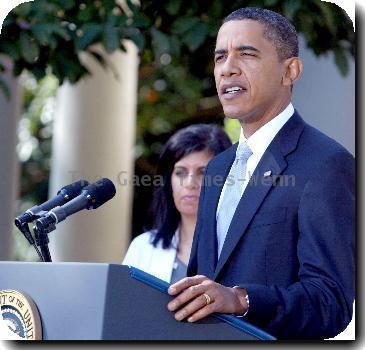 more images
British premier says Livni welcome
JERUSALEM — British Prime Minister Gordon Brown phoned former Israeli Foreign Minister Tzipi Livni Wednesday to say she is still welcome in Britain, despite a recent attempt by pro-Palestinian activists to have her arrested during a planned visit to London.
Livni's office said the British premier called on Wednesday afternoon to say he objects to the arrest warrant and that he intends to act to change the law that allowed it to be issued.
A Downing Street spokesman confirmed the phone call. Brown "said it was a disappointment she couldn't visit, and that she would be welcome in the U.K. at any time," the spokesman said.
The gesture did little to calm an uproar in Israel over the attempt to arrest Livni — the latest in a string of Israeli leaders to be threatened with legal action in Britain.
Livni told reporters in Jerusalem that the warrant put other world leaders and countries at risk. "This isn't just a warrant against me or the state of Israel, this is against every democratic country that is fighting terrorism," Livni said.
"The terrorists should be charged, not those fighting against them," Livni said. "This is a challenge to the whole free world and not just Israel or Britain."
Several Israeli officials have recently canceled visits to Britain because of efforts by Palestinians to bring Israelis before British courts under a law that allows trial for noncitizens accused of crimes committed elsewhere.
Livni apparently was targeted because she was foreign minister during Israel's war against militants in the Gaza Strip in January. She has been opposition leader since a new government took office in March.
The military campaign has drawn strong international condemnation because hundreds of Palestinian civilians were killed, and a U.N. investigation has said that both Israel and Hamas militants committed war crimes. Israel denies wrongdoing, saying it did its best to avoid civilian casualties and that Hamas used civilians as human shields.
Livni's office said she was supposed to appear at a Jewish National Fund convention in Britain on Sunday, but canceled her visit two weeks ago for reasons unconnected with any legal action against her. Israel's Foreign Ministry says the warrant has since been canceled.
Israel's president, Shimon Peres, angrily denounced the arrest attempt against Livni as "one of the greatest political mistakes" that could be done and urged Britain to quickly change its laws.
"Basically you could put any world leader on trial," he said in a statement. "Everything is based on unilateral informants, on a hostile majority public opinion. The British promised they would fix this and it is time that they do so. Britain has to decide where it stands on our matter."
British lawyers working with Palestinian activists have in recent years sought the arrest of senior Israeli civilian and military figures under terms of "universal jurisdiction." This ill-defined legal concept empowers judges to issue arrest warrants for visiting officials accused of war crimes in a foreign conflict.
The threat of arrest has forced several former security officials to call off trips to London, including a former general who remained holed up on an airplane at Heathrow Airport in order to avoid arrest. Earlier this year, Defense Minister Ehud Barak fended off an arrest attempt by successfully arguing he enjoyed diplomatic immunity.
British Foreign Secretary David Miliband on Tuesday announced that Britain would no longer tolerate legal harassment of Israeli officials in this fashion.
After meeting Israel's ambassador, Miliband said the British law permitting judges to issue arrest warrants against foreign dignitaries "without any prior knowledge or advice by a prosecutor" must be reviewed and reformed.
Filed under:
Diplomacy
,
Government
,
International Relations
Tags:
Barack Obama
,
Collateral Damage
,
England
,
Europe
,
Gaza Strip
,
Israel
,
Jerusalem
,
London
,
Middle East
,
Military Legal Affairs
,
National Security
,
Palestinian Territories
,
Political Corruption
,
Political Issues
,
Political Organizations
,
Terrorism
,
United Kingdom
,
Vladimir Putin
,
War Crimes
,
Western Europe