Cambodia, Thai Troops Exchange Gunfire
By Swatilekha Paul, Gaea News Network
Friday, February 4, 2011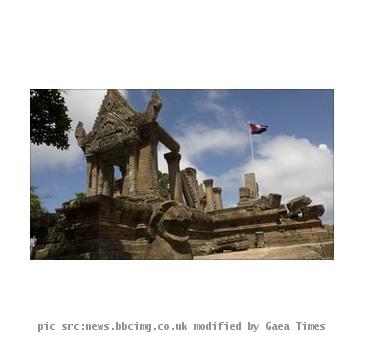 more images
BANGKOK, THAILAND (GaeaTimes.com)- At least two Cambodian soldiers are reported to have been killed while several others were injured in a gunfire exchange between Cambodian and Thai troops near a disputed area in the border of the two nations that is claimed by both. Authorities have confirmed that the shelling began on Friday morning and continued till late in the evening as tension has been simmering in the region for the past few days. A Thai military spokesperson has affirmed that the disputed region near the border shared by both the countries was witness to 'sporadic shelling' on Friday.
At the same time, a spokesperson of the military in Cambodia has claimed that the exchange of gunfire between the nation was triggered after Thai troops encroached on the Cambodian territory while few sources have revealed that the violence ensued after Thai soldiers attacked a Cambodian Buddhist pagoda in the disputed zone. Meanwhile, Thai authorities have stated that the artillery shells targeted the Huay Thip village along the country's border although any reports of any casualties in Thailand has not been forthcoming as yet.
The conflict among the two sides of the border near the ancient Hindu temple, Preah Vihear has escalated since the year 2008 after Cambodia was able to obtain the World Heritage listing of the temple. Although this development had been welcomed with open arms in Cambodia, in its border nation of Thailand, it had caused outrage as the zone was also claimed by the latter. Over the last week, the military presence along borders of both the nation had been beefed up, ultimately resulting in the gunfire exchange.