Hosni Mubarak: End Of Reign?
By Arnab Ghosh, Gaea News Network
Wednesday, February 2, 2011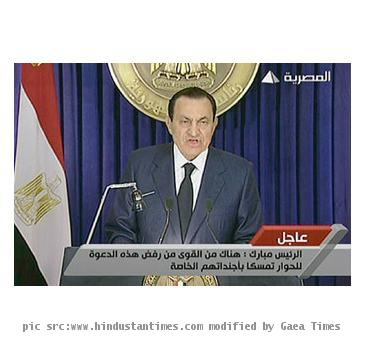 more images
CAIRO, EGYPT (GaeaTimes.com)- The political turmoil and civil unrest in Egypt and the resultant political pressure from allies has forced the President Hosni Mubarak to retreat from his earlier stance and experts predict the countdown for his ouster has started. The President who is losing support said on Tuesday that he would step down from his position in September this year. The protesters are not happy with his speech and they want an immediate end to the rule of his party which has lasted for 30 years. Adding to his woes, the Military of Egypt has said it will not use force on the protesters and the strength of the anti government forces have forced the cops to retreat virtually making the curfew ineffective in key Egyptian cities. Key ally of Egypt, United States has said that the transition of power should begin at the earliest which has intensified the pressure on the unpopular president.
US President Barack Obama said "What is clear and what I indicated tonight to President Mubarak is my belief that an orderly transition must be meaningful, it must be peaceful and it must begin now". The US president talked to his Egyptian counter part over phone as well. On Tuesday more than 1 million protesters in Egypt took to streets and they were adamant about their demand for the President to quit at the earliest. Mohammed ElBaradei a key reformist figure mocked the speech of the cornered president Hosni Mubarak as a trick.
Hosni Mubarak earlier said he will not step down and resorted to blockage of Internet and mobile services in the country. However, such moves failed to douse the protests.