What Is Happening In Egypt: Asks Stunned World!
By Arnab Ghosh, Gaea News Network
Saturday, January 29, 2011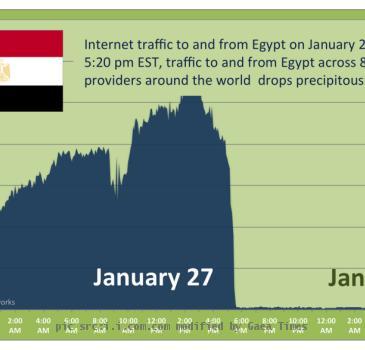 more images
CAIRO, EGYPT (GaeaTimes.com)- The unexpected and unprecedented crackdown on Internet services in trouble torn Egypt has taken the world by storm and technology community as well as political leaders are worried about long term implications of the blackout. The Internet outage has crossed 24 hours by now and mobile services in the country has also been disrupted. The incident has made the Facebook and Twitter users curious and anxious and they are searching the web for information on what is happening in Egypt. It is not clear how long the country will remain absent from the online map and the residents and businesses will be denied Internet access. The country is going to a massive civil unrest and the Hosni Mubarak government is facing the heat to step down like never before.
Hosni Mubarak the president of Egypt made an appearance on state TV possibly to clear his stand on what is happening in Egypt. He declared that he will sack thew cabinet accused of corruption and take reform measures as suggested by US president Barack Obama but will not step down himself. He said that there should be a difference between free speech and resorting to widespread violence. The country wide Internet blackout was followed by leading mobile networks in Egypt restricting their services., It was admitted by Vodafone Egypt a leading telecom operator in the country. The biggest Mobile services provider in Egypt, Mobinil also said that the instruction to curtail services came from the government.
What is happening in Egypt is still not clear to the other countries. However, the political analysts are saying that the three decade rule of Hosni Mubarak government is possibly nearing its end.