Bangalore Tense Over CM Row
By Arnab Ghosh, Gaea News Network
Saturday, January 22, 2011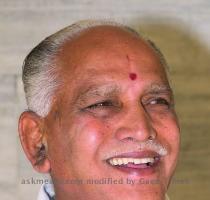 more images
BANGALORE, INDIA (GaeaTimes.com)- The political violence in Bangalore and other parts of Karnataka have worried the political leaders and BJP is trying to flex its muscle in the state over the decision of the governor to order prosecution of the state's CM B S Yeddyurappa. The Union Home minister and law minister have both slammed the actions of the BJP in Karnataka and said that the governor has done the right thing. The political veterans are divided in their opinion as to what would the next course of action for the tainted CM of Karnataka. He may not resign like some other CMs chose to. In recent past CMs of various Indian states including Bihar and Tamil Nadu did not resign after the governors gave sanctions for their prosecution. Nevertheless they had to step down later when the proceedings against them became so significant that they had no other choice.
While BJP has cried foul over the action of the governor and called a bandh in Bangalore and other parts of the state the chief opposition parties including Congress have demanded the resignation of the CM. The parties said that they will not let the CM function as the head of the state after this development. Siddaramaiah the leader of the opposition said 'The governor has taken the decision in accordance with the constitution. He has found evidence in the complaint filed by the two advocates and taken the decision'.
The bandh called by BJP has troubled the common man in Bangalore the most say the opposition parties. The governor took the stand after getting evidence from two advocates.