Martial Law Coming In UK?
By Arnab Ghosh, Gaea News Network
Thursday, December 16, 2010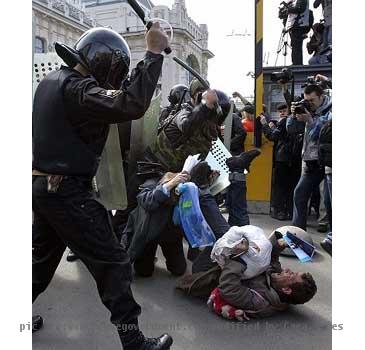 more images
LONDON, UNITED KINGDOM (GaeaTimes.com)- UK's top police officials are indicating that in near future the students could be banned from holding protest marches after some instances of student march related violences have rocked the nation and sent waves in the media. The students are angry over the unprecedented and massive pay hike in the fees of the universities in UK. It seems that Martial Law can be imposed in UK in coming days. The students are finding it extremely tough to get jobs and the fee hike has come as a bolt from the blue for them. The Metropolitan Police Commissioner Paul Stephenson hinted that it could be a possibility saying "it is one of the tactics we will look at and something we will keep under review and if we think it is the right thing to do then we will do it."
The martial law gives the police chief the power to ban on the processions. However, permission from local government along with national Home Office are prerequisites for that. The developments have made the students groups even more enraged and they are fuming. The course fee in UK universities have been raised to $18000 which they find totally unacceptable. The students groups have held four huge demonstrations so far. The heads of the unions have indicated that they will not budge from their stands.
The martial law may ban the students from holding protest marches but it can not stop them from protesting against issues. The latest student protest in which Prince Charles's car was attacked made the government alert and it is on tenterhooks after that.