Dream Act Approved By House
By Swatilekha Paul, Gaea News Network
Thursday, December 9, 2010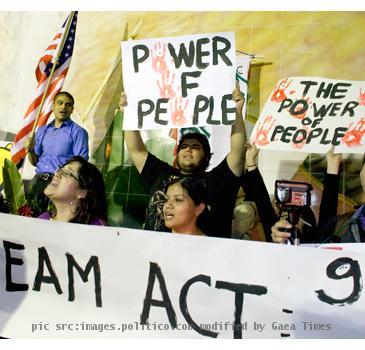 more images
WASHINGTON (GaeaTimes.com)- In what is being perceived to be a major victory for the illegal immigrants in the United States, the House approved the Development, Relief and Education for Alien Minors Act or the Dream Act on Wednesday night. Despite the fact that the bill has been passed by the House, experts feel that its is quite unlikely that the legislation would be able to make it way through the Senate where it would be voted on shortly. However, the fact that the House has approved the Dream Act is in itself a landmark judgment as this is the first time in the legislative history of the bill that it has been passed.
The bill was approved by the House with a 216-198 vote with 38 Democrats voting against it and eight Republicans pledging their support to the legislation. However, on Thursday, the Republicans are likely to block a vote on the legislation which might end the hopes of the proponents of the Dream Act to pass it on the final days of the 111th Congress. While reacting to the passage of the legislations, United States President Barack Obama reiterated that the approval by the House was indeed historic. In a statement that was released shortly, the U.S. President also emphasized that this is not only the right thing to do for the talented bunch of youth who intend to serve the country they consider as their own but also for United States.
The Dream Act applies to illegal immigrants who have been residing in the United States for at least five years, came to the country before they were 16 and have not violated the law.