WikiLeaks Afghan War Diary Faces Criticism
By Naiwrita Sinha, Gaea News Network
Sunday, October 24, 2010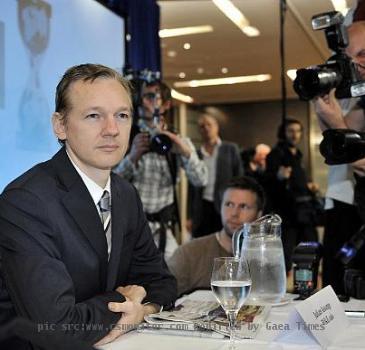 more images
WASHINGTON (Gaea Times.com) WikiLeaks is under strong criticism from the United States government, the British Defense ministry and the Iraqi Prime Minister's Office over the release of large number of secret documents of Iraq war. The new document revelation comes after the posting of almost 90,000 secret documents in July on the Afghan war. The secret documents reveals that the United States government kept a detailed account of the civilian casualties in the Iraq War and the actual number of casualties were kept secret. Known as the "Iraq War Diary", the secret documents reportedly point out the number of civilian casualties in the war to have been underestimated by at least 15,000.
WikiLeaks has refused to back down in face of the criticisms against the Afghan and Iraq War diary. The critics point out that the militants now have the opportunity of analyzing the reports at their disposal and determine the manner in which the forces move and react. They will be able to plan and direct more attacks against the armed forces, thereby increasing the casualties in war. Iraqi Prime Minister Nouri al-Maliki's office has released a statement on the issue stating that the WikiLeaks posting is an attack against national leaders and "especially against the Prime Minister".
Julian Assange, the founder of WikiLeaks has, however, responded to the criticisms by saying that the governments did not intend on the actual truth getting out, as certain deaths can be classified as a war crime. A media source while reporting on the War Diary report, said that some of the deaths happened in effective UK control in places like helicopters, vehicles and detention facilities. The founder the whistle-blower site that has disclosed the Afghan and Iraq secret documents, Julian Assange moves in secrecy in view of his safety.