Mike Pence Wins Republican Straw Poll
By Reema, Gaea News Network
Sunday, September 19, 2010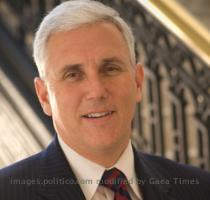 more images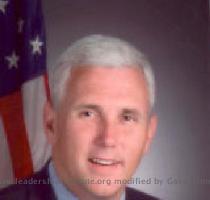 more images
WASHINGTON (Gaeatimes.com)- Come 2012 Presidential election and former Alaska Governor Sarah Palin might face a tough competition for Republican Presidential ticket from Indiana Representative Mike Pence. A straw vote result has suggested that social conservatives would like Rep. Mike Pence to contest with Sarah Palin for the Presidential ticket. The straw vote that was conducted on Saturday at the annual Values Voter Summit saw Mike Pence leading the choice list for the Republican president.
On Saturday, out of more than 2,000 registered attendees at the annual Values Voter Summit, around 723 cast their votes. Mike Pence who topped the presidential candidate list managed 24 percent votes. Following Mike Pence was former Alaska Governor Mike Huckabee who received 22 percent votes. The third position was held by Gov. Mitt Romney followed by former House Speaker Newt Gingrich and Sarah Palin. Although Sarah Palin lagged behind in the Republican presidential candidate list, she was not far behind in the category of vice president. Sarah Palin was the second choice after Mike Pence in the category of vice president.
The attendees not only made their choice for Presidential and vice presidential candidate clear but also went on to vote on some of the burning issues that the Republicans are addressing at present. Votes were cast on issues like abortion, government spending, protection of religious liberty, national security and repeal of President Barack Obama's health care law. Undoubtedly, conservative Mike Pence who has championed anti-abortion legislation went on to become the favorite with most of the attendee. After the vote, Tony Perkins, the Family Research Council's president said to media sources, "What a dream ticket — Mike Pence and Sarah Palin. That would give the liberals heartburn".