Barbara Bush: "Sarah Palin Should Stay In Alaska"
By Swatilekha Paul, Gaea News Network
Tuesday, November 23, 2010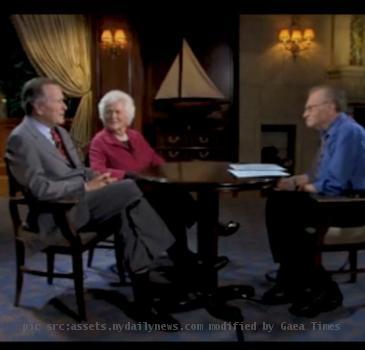 more images
WASHINGTON (GaeaTimes.com)- If Sarah Palin indeed goes ahead with her 2012 U.S. presidential bid, it seems unlikely that she would have the vote of former first lady Barbara Bush who has said that the Republican leader should stay at her home state of Alaska. The former first lady made the remarks in the "Larry King Live" show where she appeared along with her husband ex-president George H. W. Bush. The episode of "Larry King Live" featuring the former first couple was aired on Monday night.
In the one-on-one with Larry King, Barbara Bush said that although she thinks the ex-vice presidential candidate is beautiful, she really hopes that she continues to stay in Alaska, taking a dig at Sarah Palin's ambitions of running for the top-most White House post. It does not come as a surprise that Barbara Bush's impression of the former Alaska governor has been successful in attracting the ire of supporters of the Republican favorite. Radio host Glenn Beck was one of the first to respond to the comments made by the former first lady in his radio show calling the remarks 'really insulting.'
Meanwhile, experts feel that Barbara Bush's comments sums up the view-point of the old school of the US Republican establishment many of whom have been critical of Sarah Palin and other Tea Party movement figures who have gradually played an increasingly important role in the political landscape of United States. In the recent past, Sarah Palin has been upfront about her plans to run for the Republican party presidential nomination in the upcoming 2012 elections.