"Sarah Palin's Alaska" Premieres
By Madhusmita, Gaea News Network
Monday, November 15, 2010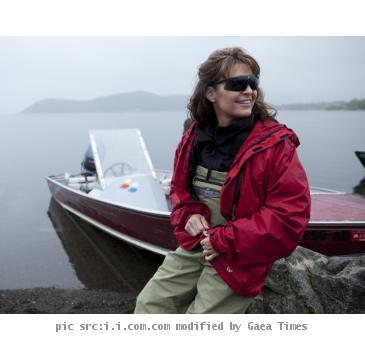 more images
ALASKA (GaeaTimes.com)- Last night "Sarah Palin's Alaska" premiered on TLC and the audience saw a different homely Sarah Palin on the show. The show is produced by Mark Burnett Productions for Discovery Communications and the theme song of the show was 'Follow Me There' by Third Play. The audience saw a non-political Sarah Palin who indulged herself in the day to day activity and it mainly dealt with Sarah Palin's relationship with her children and her husband. The TLC producers call the show as a "family adventure story" but some critics claimed that the show was more like a reality series.
"Sarah Palin's Alaska" showed the former Alaskan Governor spending time with her family, fishing, mountaineering, making cup-cake with the family, taking care of the family, taking care of her children and not to forget criticizing Joe McGinniss. Joe McGinniss previously moved next to her house to write a book about her life. Sarah Palin called his act as an "intrusion" and an "invasion of family privacy". Sitting in her backyard and facing lake Lucille, Sarah Palin said that it was a "beautiful" day where she would like to research and write. However, Todd Palin immediately added that their summer fun has been marred by their neighbor who is writing a book about them and trying to intrude in their personal life.
"Sarah Palin's Alaska" is an eight part documentary hosted by Sarah Palin and previously the Tea Party favorite said that with her show she wants to correct some "untruths" about Alaska and would bring forward the beauty and "majesty" of Alaska to everyone. However, the audience saw Sarah Palin chiding her teenage daughter Willow Palin for seeing a boy. The critics are of the opinion that the show would remake Sarah Palin's image than showcase her political position.