Republican Pat Toomey Wins US Senate Seat in Pennsylvania
By Jayita, Gaea News Network
Wednesday, November 3, 2010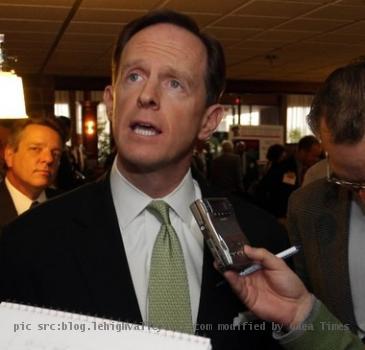 more images
PENNSYLVANIA (GaeaTimes.com) — Result is out and the prediction comes true. Republican wins in Pennsylvania's U-S Senate contest. Its Pat Toomey, who wins the contest, defeating Democrat U.S. Rep. Joe Sestak.
A close race was noticed between the two stalwart leaders. Toomey earned 68 percent of the vote, compared to 32 percent for Sestak. Although Joe Sestak was leading earlier, Toomey snatched the victory for Republican.
The jubiiant Toomey said that the electorate assigns a mandate
for the Republican party.
I think voters want a change they want to get off the track we are on in Washington a track of ever bigger government,
massive deficits excessive government regulation and move in a direction where we focus on job growth in the private sector, get spending under control and just bring some balance to Washington.
Toomey also added that he will work with Pennsylvania's other Senator Bob Casey and other Democrats to help the nation growing.