Lalgarh Rally Witnesses Mass Gathering
By Reema, Gaea News Network
Monday, August 9, 2010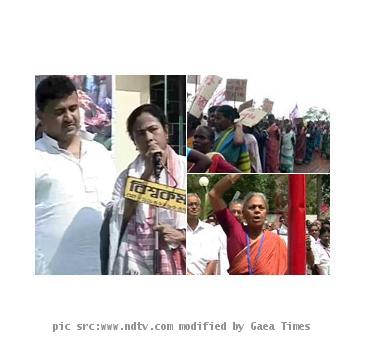 more images
LALGARH, INDIA (GaeaTimes.com)- On Monday afternoon Railway Minister Mamata Banerjee addressed a huge gathering at Lalgarh under an "apolitical" forum named "Santras Birodhi Mancha". The rally was not only supported by the Pro-Maoist tribal group, Peoples' Committee Against Police Atrocities (PCAPA), but also attended by many well known activists and writers who have many a times voiced their thoughts over the issue of Maoist activities in the state. The Lalgarh rally on Monday saw the presence of writer activists like Mahasweta Devi, Swami Agnivesh and Medha Patkar.
In the Lalgarh rally, the Union Minister Mamata Banerjee said to the gathered mass that peace talks with the Maoists should be initiated immediately. She also added that she is ready to take the initiative to visit other troubled areas like Dantewada in Chhattisgarh to start the talk process. She also voiced that the Maoist leader C Rajakumar alias Azad was killed inappropriately and asked for a probe into his death. C Rajakumar was killed in an encounter in July 2 by the state police in Andhra Pradesh.
The Trinamool Congress chief also took the opportunity of the rally to hit back at the ruling party in the state, CPI-M. She blamed the CPI-M leaders for the continual violence in the state. She also pointed to the present state of Lalgarh and said "After 34 years of rule, why is there no hospital in Lalgarh". However, Mamata Banerjee added that she does not understand the language of guns and that she had always resolved matters by democratic means. The Monday rally was supported last week by top Maoist leader Kishenji.