Suicide bomber strikes near mosque used by police in NW Pakistan, killing 10, wounding dozens
By Munir Ahmad, AP
Friday, December 18, 2009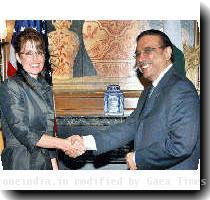 more images
Suicide bomber near Pakistan mosque kills 10
ISLAMABAD — A suicide attacker set off a powerful bomb outside a mosque in northwestern Pakistan just after police officers had finished their Friday prayers, killing 10 people. The attack was the second against a mosque used by security forces in two weeks.
No group has taken responsibility for the bombing that also wounded 25 people in Lower Dir region, but the Taliban has carried out similar attacks throughout the country. Most of the victims were police leaving the mosque after prayers, said the area's police chief, Feroze Khan.
Taliban militants have stepped up their campaign of violence inside Pakistan since the military launched a major offensive in mid-October in the militant stronghold of South Waziristan near the Afghan border.
The bombing came as pressure increased on senior Pakistani officials facing corruption charges following the Supreme Court's decision to strike down an amnesty issued by former President Pervez Musharraf. The ensuing political turmoil threatens to distract the government from its fight against the militants.
That scenario is a major concern to the Obama administration, which has not only pressed Pakistan to continue its offensive against militants threatening the state, but also to expand its operations to target Taliban and al-Qaida fighters launching cross-border attacks against coalition troops in Afghanistan.
The U.S. has also increased drone missile strikes in Pakistan's lawless tribal area near the Afghan border, including one Friday against a house in North Waziristan that killed six suspected militants, said intelligence officials, speaking on condition of anonymity because they were not authorized to talk to the media. It was the third such attack in 24 hours.
Lower Dir is next to the Swat Valley, which Pakistani soldiers wrested from the Taliban earlier this year. But periodic attacks have continued in the region and elsewhere in Pakistan, many against the country's security forces.
Despite the wave of violence, which has killed more than 500 people in the last two months, the Pakistani military has vowed to continue its offensive in South Waziristan and crack down on other militants who threaten the state.
But political turmoil surrounding the Supreme Court's decision Wednesday to strike down the amnesty issued by Musharraf threatens to distract the government from the fight. The verdict means up to 8,000 graft and other cases dating back to the 1990s have been, or will soon be, reopened.
Anti-corruption courts across the country issued summons on Friday to over 100 suspects, including Interior Minister Rehman Malik, presidential secretary Salman Farooqi and chairman of the ruling Pakistan People's Party, Jahangir Badr, said court officials.
The summons came a day after the Interior Ministry issued a list of nearly 250 officials, including Malik and Defense Minister Ahmed Mukhtar, who were barred from leaving the country following the Supreme Court's decision.
Immigration officials stopped Mukhtar from boarding a plane to China on Thursday, a decision criticized by Prime Minister Yousuf Raza Gilani. He suspended the secretary of the interior, Qamar Zaman, on Friday and ordered a formal inquiry.
"Stopping the defense minister from going on an official trip to a very friendly country brought a bad name to the country," Gilani told reporters.
U.S.-allied President Asif Ali Zardari and several of his key aides are among those who benefited from the amnesty deal. Zardari is protected by constitutional immunity from any criminal prosecution, but opponents say they plan to challenge his eligibility for office.
The Supreme Court ruling has been welcomed by many Pakistanis, who viewed the graft amnesty as an immoral piece of legislation that whitewashed the crimes of the elite.
It was introduced as part of a U.S.-backed deal to allow Zardari's wife, the late Benazir Bhutto, to return from self-imposed exile in 2007 and contest elections safe in the knowledge she would be immune to old graft accusations she insisted were politically motivated.
"They are stealing our resources, so if cases against them are reopened, it is good," said Nasar Rehman, as he shopped at a market in the capital, Islamabad.
Zardari, who heads the country's largest party, is already unpopular, in large part because of his close ties with Washington. He now faces the prospect of bruising court battles that will likely mean old corruption charges come under fresh scrutiny.
The Obama administration needs political stability in Pakistan to succeed in neighboring Afghanistan, where violence against U.S. and NATO troops is running at all time highs.
But Pakistan has resisted Washington's demands that it target militants staging cross-border attacks against coalition troops in Afghanistan. Many analysts say the Pakistani government believes the militants could serve as useful proxies if the coalition fails to stabilize Afghanistan and withdraws.
Associated Press Writers Rasool Dawar in Mir Ali, Ashraf Khan in Karachi and Zarar Khan in Islamabad contributed to this report.
Filed under:
Government
Tags:
Afghanistan
,
As-pakistan
,
Asia
,
Asif Ali Zardari
,
Bombings
,
Border Security
,
Bribery
,
Central Asia
,
Graft And Conflicts Of Interest
,
Improvised Explosives
,
Islamabad
,
Karachi
,
North America
,
Pakistan
,
Political Corruption
,
Political Issues
,
South Asia
,
Terrorism
,
United States