Iraq War Ends
By Swatilekha Paul, Gaea News Network
Thursday, August 19, 2010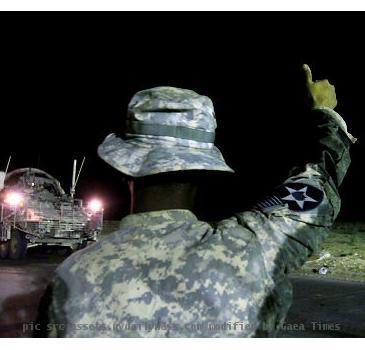 more images
WASHINGTON (GaeaTimes.com)- After almost seven and a half years of the invasion of Iraq by the United States to oust the Saddam Hussein government, the Iraq War reached its final moments with the withdrawal of the last U.S combat brigade. The final American combat troop left the Iraqi soil early Thursday and made its way in Kuwait marking the end of the Iraq war which is known to have claimed millions of lives in the country besides killing as many as 4,000 American troops.
Despite the withdrawal of the 14,000-member 4th Stryker Brigade, 2nd Infantry Division, an estimated 50,000 American troops are likely to remain in Iraq till the end of next year in order to defend the U.S. interests and at the same time train the Iraqi forces. The departure of the United States combat operation from the Iraqi soil comes about two weeks prior to the August 31 deadline to end the war in Iraq that was promised by President Barack Obama upon taking the office. In the meanwhile, P.J. Crowley, a spokesperson of the State Department told the media that although the war in Iraq is coming to an end, the work of United States in the country is not ending just yet as U.S has long-term commitment to Iraq.
With the withdrawal of the U.S. combat operations from Iraq, the bloody and the rather controversial operation that began in the month of March 2003 to topple the Iraqi dictator reaches its climax. The Iraq war was significant in itself as it witnessed the American forces indulging in some of the heaviest fighting in the operations that lasted more than the U.S Civil War, First World War and the Second World War.