President Obama: "We're making progress"
By Avik, Gaea News Network
Thursday, December 16, 2010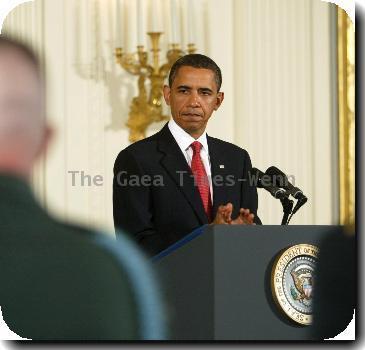 more images
WASHINGTON (GaeaTimes.com) — According to President Barack Obama, the efforts to strengthen Native American communities progressing.
This is what the President told a group of leaders from more than 500 federally recognized tribes Thursday.
"We're making progress," Obama said at the White House Tribal Nations Conference, the second of his administration "We're moving forward. What I hope is, we're seeing a turning point in the relationship between our nations."
The President is eager and open to incoming suggestions and advises from the tribe leaders and had called upon none less than Leaders of 565 tribes were invited to the conference, the White House said.
American Indians' history has been "too often marred by broken promises and grave injustices against the first Americans," Obama said. While he acknowledged that no words can undo the damage, he said his administration aims for action to match those words.
Native Americans have been faced with a choice, he said — abandon their heritage or accept a lesser lot in life.
The President consolidated the tribes stating,
We know this is a false choice, To accept it is to believe that we can't and won't do better, and I won't accept that.