Can Sarah Palin Hunt?
By Avik, Gaea News Network
Tuesday, December 7, 2010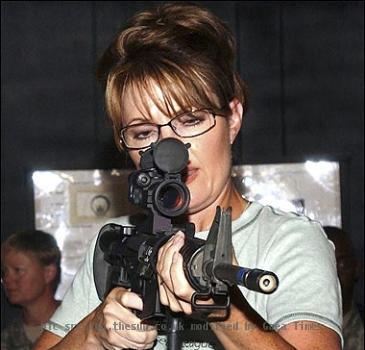 more images
WASHINGTON (GaeaTimes.com) — Sarah Palin spoke of her exceptional hunting skills at an interview. Soon after she was spotted taking shot at a caribou while in a TLC Reality Show.
Her awful performance has raised the irrevocable urge to know whether or not she ever did handle a gun before. It is said she was thoroughly coached by her father due the shoots but even though she didn't sheel the bullets into the gun that she was spotted using. Then, she even coudn't sight her rifle properly before shooting. Infact the lady coudn't even kill the animal properly at a shot. She wasted many a rounds fire to kill one single animal, which added to her skills.
This wouldn't have been much big an issue if not Palin touted her being an hunter. Reportedly the video was filmed for "Sarah Palin's Alaska."
PETAVice President Dan Mathews has issued a statement saying,
Sarah seems to think that resorting to violence and blood and guts may lure people into watching her boring show, but the ratings remain as dead as the poor animals she shoots.
Sunday morning, before the episode aired, Palin posted a preemptive message on Facebook:
Tonight's hunting episode of Sarah Palin's Alaska 'controversial'? Really? Unless you've never worn leather shoes, sat upon a leather couch or eaten a piece of meat, save your condemnation of tonight's episode. I remain proudly intolerant of anti-hunting hypocrisy.