North Korean leader Kim may be headed home after Chinese trip that sparked succession talk
By Scott Mcdonald, AP
Monday, August 30, 2010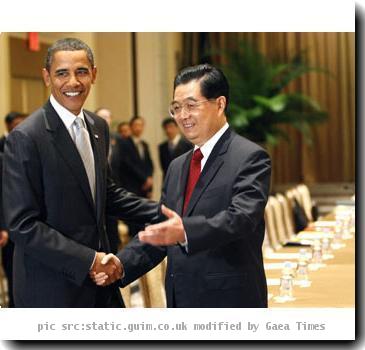 more images
North Korean leader Kim may be headed home
BEIJING — North Korean leader Kim Jong Il appeared Monday to be winding up a six-day visit to China that fueled speculation he was seeking aid and drumming up support for a succession plan involving his youngest son.
Reporters have followed a train and a 35-vehicle motorcade — apparently used by the reclusive Kim — around several cities in northeast China since late Wednesday. Kim, 68, rarely leaves North Korea and when he does travels by special train.
South Korea's Yonhap news agency and Kyodo news agency from Japan both said Kim's train had left Harbin, apparently for Tumen on the border with North Korea.
North Korea never announces Kim's trips until after he returns home, and China has refused to say if he is in the country, even though a Japanese television station broadcast a grainy picture of him surrounded by security guards.
Kim was reportedly accompanied by his son, Kim Jong Un, believed to be in his 20s. Many North Korea watchers predict the son will be appointed to a key party position at a ruling Workers' Party meeting early next month — the first such gathering in decades — as part of a succession process.
To pull off the event with sufficient fanfare, North Korea will need Chinese aid, particularly following the devastating floods that battered the country's northwest this month, analysts said.
Yonhap said Kim briefly stopped in Mudanjiang on his way to Tumen, citing unidentified sources in the city. It said Kim visited Beishan park to pay his respect to a monument commemorating an anti-Japanese movement. The report said the park is also related to his father's anti-Japanese guerrilla warfare but didn't elaborate.
After staying about one hour, Yonhap said Kim's train began heading again to Tumen, where security was high Monday.
A woman at the Jiang Nan Hotel 100 yards (meters) from the Tumen train station said the area was surrounded with police officers. Another woman working at the Xin Xianlu Hotel nearby said plainclothes police were stationed in her hotel. On the streets "there is a policeman almost every 5 meters," she said. Both women refused to give their names.
South Korea's Chosun Ilbo newspaper and Yonhap reported Kim is believed to have met Chinese President Hu Jintao in the city of Changchun on Friday. The Dong-a Ilbo newspaper said the two are thought to have discussed the North's succession, the resumption of six-nation talks on North Korea's nuclear program, and ways to strengthen bilateral economic cooperation.
Kim's trip is his second to China in three months, which is unusual for someone who rarely leaves his country. His May trip included talks with Hu and tours of companies and economic zones.
That trip, unlike the current one, was preceded by months of speculation that Kim would visit China.
Several of the stops on the latest trip, including in Changchun and Harbin, had historic sites commemorating his father's communist beginnings. Biographies of Kim Il Sung, who engaged in anti-Japanese guerrilla warfare in Harbin during Japan's colonial occupation, say the senior Kim began absorbing communist ideology while at a school in Changchun in the late 1920s.
Associated Press writer Hyung-jin Kim in Seoul, South Korea, contributed to this report.
Filed under:
Government
Tags:
Asia
,
Beijing
,
Changchun
,
China
,
East Asia
,
Greater China
,
Harbin
,
Hu Jintao
,
Japan
,
North Korea
,
South Korea