Task Force 373: Leaked War-Log Reveals Shocking Facts
By Shaon, Gaea News Network
Monday, July 26, 2010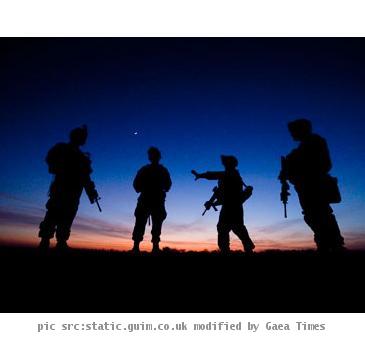 KABUL, AFGANISTAN (GaeaTimes.com) — Shocking details have come into light regarding the existence of a "black" special-ops unit active in Afganistan. This force reportedly specializes in hunting down suspects to detain them or execute them without trial. Currently more than 2000 senior Al-Qaida, Taliban members.
These new revelations have brought the tactics employed by the US military in question. These kind of "wet" tactics are deemed as illegal wartime strategies by the United Nations. An probe was launched in 2008 by the United Nations to investigate the alleged human rights violation by the Task Force-373.
In another astounding revelation, the Task force-373 has been linked with an operation that allegedly involved firing five rockets at a "Madrasa". The operation resulted in the death of four children. The coalition
made a press statement
on the incident, it claimed .
(The troops) had surveillance on the compound all day and saw no indications there were children inside the building.
The leaked war logs claim that 4,288 prisoners, were brought to the Btif prison over the years. There are still 757 held in custody. The war log also states that the task force 373 operates from atleast three locations in Afganistan namely Kabul, Kandahar and Khos. They are known to co-ordinate with the other special ops groups active in that area. We will keep you updated on this story as it develops.