Julian Assange's Arrest Warrant Issued
By Swatilekha Paul, Gaea News Network
Sunday, December 5, 2010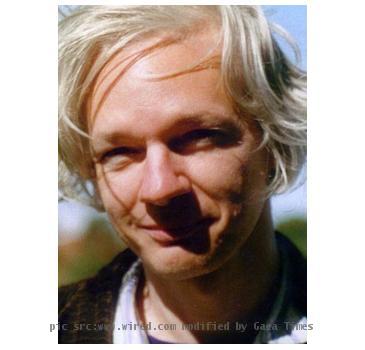 more images
LONDON, UNITED KINGDOM (GaeaTimes.com)- As the United States government scrambles to come out of the fallout of the confidential diplomatic cables that were recently released by whistle-blowing website WikiLeaks, its founder Julian Assange finds himself in a new loop after an arrest warrant was issued against him. The warrant has been issued against the WikiLeaks editor-in-chief for his extradition to Sweden with regard to certain sex allegations that have been levied against him in the country. The 39-year-old Australian might face charges of rape and molestation, sources have revealed.
The Swedish authorities have validated that an international arrest warrant has been issued against the founder of the whistle-blower for the alleged sex crimes with respect to which he is wanted for questioning in the nation. The fresh warrant were issued by the Swedish officials just a day after the highest court in Sweden rejected Julian Assange's permission to appeal against the arrest orders over the alleged sex crimes involving two women. However, the lawyer of the WikiLeaks editor-in-chief Mark Stephens has refuted the arrest warrants describing them as political stunts emphasizing that the Australian journalist's innocence. At the same time, the lawyer also reiterated that his client would surely fight against the orders to extradite him as this might eventually lead to his deportation to United States. Moreover, Interpol has also issued a 'Red Notice' making an appeal to people to contact authorities without any delay if they get to know anything about his whereabouts.
Meanwhile, Julian Assange who is supposedly hiding in United Kingdom, has attracted the wrath of political leaders in United States as well as countries across the world for the 250,000 secret U.S. diplomatic cables that were published by the whistle-blowing website last week.