Ambika Soni slams Modi over 'contract killing' remarks
By ANI
Thursday, August 26, 2010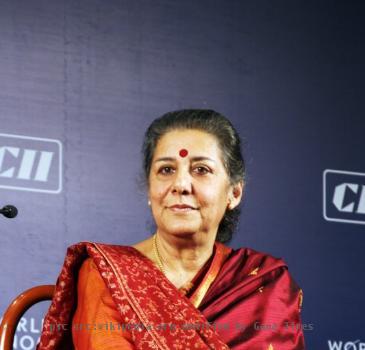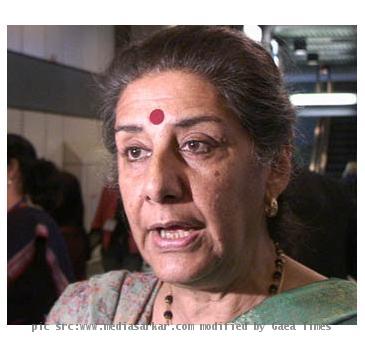 NEW DELHI - Union Information and Broadcasting Minister Ambika Soni on Thursday slammed Gujarat Chief Minister Narendra Modi over his remarks that the Congress party has given a contract killing order to the Central Bureau of Investigation (CBI) to eliminate him.
Reacting to the statement, Soni said Modi has become scared and frustrated.
"Narendra Modi is scared of the fact that his right hand man, Amit Shah, has been taken into custody. There is no chance of his acquittal. Many others of his close aides will also be caught soon, since they have been charged with extortion and murder," said Soni.
"Modi is scared and frustrated, and that is why he is making such arbitrary statements," she added.
Earlier on Wednesday, Modi said the Congress party was misusing CBI to settle political scores against him, and called it a malicious conspiracy to illegally frame and indict him.
"The Congress party has given a supari (contract killing order) to the CBI to eliminate me. Their intention is to kill me and stop the progress of Gujarat. The CBI has taken a supari from the Congress for the purpose of eliminating me," said Modi at a rally in Ahmedabad.
The CBI team is likely to question Modi in connection with the Sohrabuddin Sheikh fake encounter case.
The CBI wants to know if Modi was aware of the attempts being made by top police officials to scuttle the probe.
Earlier, the CBI has summoned former Gujarat DGP P C Pandey for questioning in connection with the case. CBI has called Pandey to appear before it on August 11.
The Supreme Court handed over the fake encounter case to CBI in January this year.
Earlier on July 28, a three-member CBI team posed 32 questions before former Gujarat Home Minister Amit Shah inside the Sabarmati jail premises in connection with the case.
Sohrabuddin and his wife Kausar Bi were killed in an alleged fake encounter in 2005. (ANI)