The Architect of Pol Pot's Genocide Sentenced
By Shaon, Gaea News Network
Monday, July 26, 2010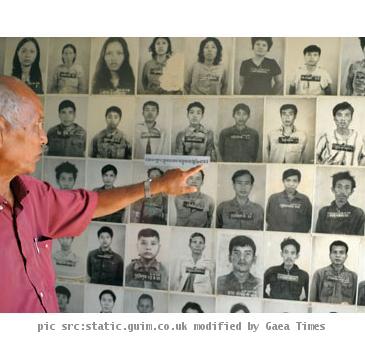 PHOM-PHEM(GaeaTimes.com) — When Pol Pot, the much loathed Cambodian dictator passed away in 4/15/1998,people around the world sighed of relief. He was guilty of genocide in the Cambodian killing fields thai claimed the lives of more than two million people.
Pol Pot allegedly put numerous
"undesirable"
citizens into jails were they were tortured brutally. Those vile attacks on humanity was offered closure today.
Kaing Guek Eav, the chief of Pol Pot's prison received a prison sentence amounting to fifteen years.
Kaing Guek Eav confessed that he personally supervised the death of more than fifteen thousand adults
. Moreover those people were subjected to brutal torture before execution.
Nil Nonn, the judge observed that all those put into the prison faced execution.
Kaing Guek Eav, popularly known as Duch
was the chief of S-21. This S-21 was a specialist in torture and execution teqniques. The camp was based in Phom Phem school. Incidentally Pol-Pot died in prison awaiting transfer to another place, he was arrested for ordering the execution of his right hand man Son Sen. He could not be tried on charges of genocide