Khmer Rouge Generals Trial Raises Controversy
By Turjo, Gaea News Network
Monday, July 26, 2010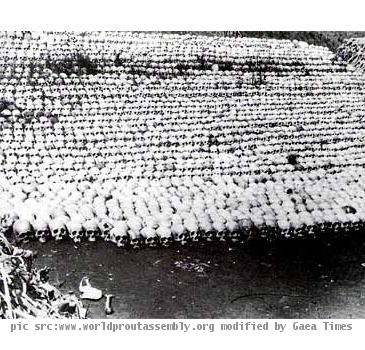 CAMBODIA (GaeaTimes.com) — A former Khmer Rouge chief Jailer and executioner, accused of overseeing the deaths of thousands of people during a genocidal rule in Cambodia, was sentenced to 35 years of imprisonment by the war crime tribunal on Monday.
But victims and their relatives were enraged by the fact that the accused general named Guek Eav aka Duch, would face only 19 years behind bars, as time already served and other factors were taken into account by the tribunal. The sentence effectively means that the General could walk free one day in future.
It is the first verdict of the country's UN-backed tribunal after three decades of torture and execution on the Cambodians by the Khmer Rouge. The groups leader, Pol Pot died on 1998 and four remaining senior leaders are awaiting trials.
During his 77 day proceedings, Duch admitted to head Toul Sleng, a top-secret detention center where more than 16,000 people were tortured and killed by various inhuman means. Unlike other defendants, Duch (pronounced as DOIK) expressed great remorse, even offering to face public stoning at one point. He also wished to be visited by the victims during his time behind the bars. But on the final day of the hearing, Duch requested for his freedom to the jury. This has seriously raised question against the sincerity of his earlier contrition.