Won't allow passage of Women's Reservation Bill in Lok Sabha: Lalu Yadav
By ANI
Sunday, March 14, 2010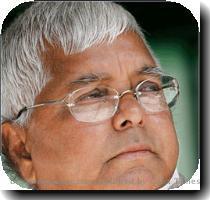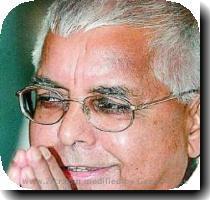 PATNA - Rashtriya Janata Dal (RJD) President Lalu Prasad Yadav deciding to stall the Women's Reservation Bill in its present form has said that he will not allow it to pass in the Lok Sabha.
Addressing a gathering of Muslim Community in Patna, Yadav said, "The government will have to throw me out of the Lok Sabha by deploying marshals or military then only the bill will be passed. I am not against the Bill."
"But Muslim women, poor women, backward women and women who are wage labourers, they are also daughters of India and must be brought to Parliament," he added.
Other regional parties including the Lok Janshakti Party (LJP) and the Samajwadi Party (SP), which are apprehensive that just a few upper class women would only benefit, have stoically opposed the bill.
They have demanded reservation-within-reservation, seeking reservation for deprived classes and Muslim women within the quota.
LJP chief Ram Vilas Paswan meanwhile suggested that the Lok Sabha seats should be increased by a third to accommodate the women candidates and the delimitation of constituencies can then be taken up to reserve seats for backward castes and minorities.
"The best way is to increase 1/3rd of seats for women. It should be permanent like general categories. The process of delimitation can take place as it happens in the case of Scheduled Castes (lower castes) and Scheduled Tribes over ten years. In that case the situation of uncertainty will be over," said Paswan.
History was created in the Rajya Sabha on Tuesday (March 9) when it passed the controversial Women's Reservation Bill that seeks to reserve for women 181 of the 543 seats in the Lok Sabha and 1,370 out of a total of 4,109 seats in the 28 State Assemblies. (ANI)