Lalu, Mulayam adamant on opposing Women Reservation Bill with minority card
By ANI
Sunday, March 7, 2010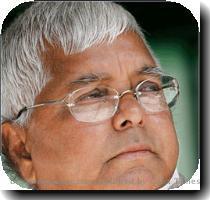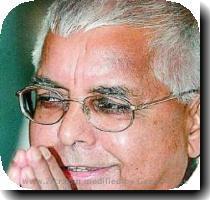 PATNA / LUCKNOW - Rashtriya Janata Dal (RJD) and Samajwadi Party (SP) on Sunday remained adamant in opposing the Women's Reservation Bill by playing the minority card.
Both parties are opposed to Women Reservation Bill in its present form and are demanding quota within quota for backward and Muslim women.
RJD's Lalu Prasad Yadav and SP's Mulayam Singh Yadav contend that the Bill is nothing but a conspiracy by the Congress and the BJP to eliminate the Backward Classes, Dalit's and the Muslims.
On Sunday, both the leaders blamed Congress and BJP being hand in gloves.
Describing the Bill as a "political blunder", Mr. Lalu Yadav alleged that it was a conspiracy hatched by both BJP and Congress parties to suppress representation of women belonging to the OBC, ST/SC and Muslim communities.
He said because the Centre lacked guts to implement the Ranganath Mishra Commission and Sachar panel reports, hence it's passing of the Women's Reservation Bill.
Mr. Lalu called it just a "diversionary tactic", he told reporters in Patna before leaving for New Delhi to garner support against the bill in its present form.
"I am for 50 per cent reservation for women belonging to all communities… But you cannot ignore the interests of women from deprived sections of the society. "Did women like Sushma Swaraj require reservation to reach the top? … It only proves that the Bill is meant for the elite classes," Mr. Lalu Yadav said in Patna.
Mr. Lalu even claimed that certain top leaders of the BJP and Congress were in constant touch with him and were hesitating just because their respective parties have issued whips.
"All political parties should allot seats for women. If they fail to do so, EC should de-recognize such parties. BJP-Congress is hand-in-glove in pushing the bill. They are against Dalit's, Muslims and Backward Classes. We will do everything to fight this," said Mulayam Singh Yadav, the SP chief in a Times Now report.
Meanwhile, SP Chief Whip Shailendra Kumar, said the party will issue a whip to MPs over the measure which will be taken up in the Rajya Sabha tomorrow. "We will have a meeting of our MPs tomorrow morning just before parliament commences to discuss our strategy over the Bill. Although all our MPs are following the party line of opposing the Bill, we will also issue a whip so that nobody goes against the party stand," he said.
The Women Reservation Bill is slated for being tabled in Rajya Sabha on Monday. (ANI)