Rural Illinois prison to get limited number of Guantanamo Bay detainees
By Henry C. Jackson, AP
Tuesday, December 15, 2009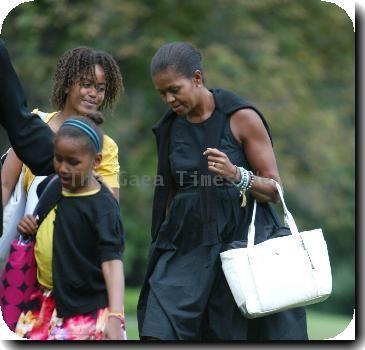 Ill. prison to get Gitmo detainees
WASHINGTON — President Barack Obama has ordered the federal government to acquire an underused state prison in rural Illinois to be the new home for a limited number of terror suspects now held at the U.S. detention facility at Guantanamo Bay, Cuba.
The federal government will acquire Thomson Correctional Center in Thomson, Ill., transforming the prison in a sleepy town near the Mississippi River into a prison that meets "supermax standards," according to a letter to Illinois Gov. Pat Quinn signed by Secretary of State Hillary Clinton, Defense Secretary Robert Gates, Homeland Security Secretary Janet Napolitano, Attorney General Eric Holder and Director of National Intelligence Dennis C. Blair.
Those departments "will work closely with state and local law enforcement authorities to identify and mitigate any risks" at the prison, the letter said.
The decision is an important step toward closing Guantanamo Bay. Thomson, about 150 miles from Chicago, is expected to house both federal inmates and no more than 100 detainees from Guantanamo Bay.
Administration officials as well as Illinois Sen. Richard Durbin and Illinois Gov. Pat Quinn were appearing at the White House later Tuesday for the announcement.
Republicans were quick to criticize the administration's plan.
Senate Minority Leader Mitch McConnell, R-Ky., said the American people "already have rejected bringing terrorists to U.S. soil." He accused the administration of failing to explain how transferring the detainees would keep the public safer than keeping them offshore in Cuba.
The facility in Thomson had emerged as a clear front-runner after Illinois officials, led by Durbin, enthusiastically embraced the idea of turning a near-dormant prison over to federal officials.
Sen. Roland Burris, D-Ill., said he had "full confidence that the facility will hold these terrorism suspects safely and securely." In a statement, Burris said that with Illinois struggling with 11 percent unemployment, the transfer will be "a great economic benefit to the state by creating over 3,000 well-paying jobs and bringing in valuable federal dollars to fund local facility operations."
The Thomson Correctional Center was one of several potential sites evaluated by the Federal Bureau of Prisons to potentially house detainees from the Navy-run prison at Guantanamo Bay. Officials with other prisons, including Marion, Ill., Hardin, Mont., and Florence, Colo., had said they would welcome the jobs that would be created with the new inmates.
Closing Guantanamo is a top priority for Obama, and he signed an executive order hours into his presidency directing that the process of closing the prison begin. Obama has said he wants terrorism suspects transferred to American soil so they can be tried for their suspected crimes.
The Thomson Correctional Center was built by Illinois in 2001 as a state prison with the potential to house maximum security inmates. Local officials hoped it would improve the local economy, providing jobs to a hard-hit community. State budget problems, however, have kept the 1,600-cell prison from ever fully opening. At present, it houses about 200 minimum-security inmates.
Some Illinois officials have not supported the idea. GOP Rep. Mark Kirk, who is seeking Obama's old Senate seat, said he believes moving Guantanamo detainees to Illinois will make the state a greater threat for terrorist attacks. Kirk has lobbied other officials to contact the White House in opposition to using the facility.
To be sure, Thomson will not solve all the administration's Guantanamo-related problems. There still will be dozens of detainees who are not relocated to Thomson, other legal issues and potential resistance from Congress.
Thomson is a symbolic step, however, a clear sign that the United States is working to find a new place to hold detainees from Guantanamo.
Associated Press writer F.N. D'Alessio in Chicago contributed to this report.
Filed under:
Cabinets
,
Government
Tags:
Barack Obama
,
Caribbean
,
Correctional Systems
,
Cuba
,
Hillary Clinton
,
Illinois
,
Latin America And Caribbean
,
Military Correctional Systems
,
North America
,
Terrorism
,
United States
,
Washington