President Obama's su-PER-flu-us Experience at Kennedy honors
By Avik, Gaea News Network
Monday, December 6, 2010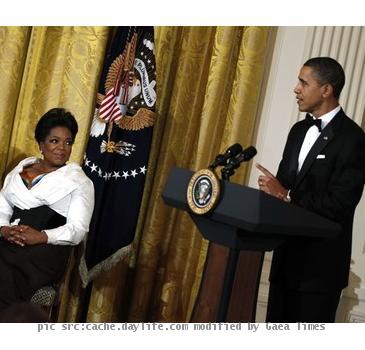 more images
WASHINGTON (GaeaTimes.com) — 12 stitches leading to split lips is what made Barack Obama grapple with the word 'Superfluous'.
For those of you don't know how the president was led to these 12 stitches, let me tell you, recently while playing pickup basketball game the day after Thanksgiving Barack Obama was elbowed.
The President was reading a speech on Sunday evening at a White House event for this year's Kennedy Center honorees from an opinion by legendary Supreme Court Justice Oliver Wendell Holmes.
The perplexed president said,
It's this lip. It's hard to say, You try it when you've had 12 stitches.
Well, Mr. Obama finally succeeded, as he always does, and received huge applause from the crowd. The excerpts were somewhat,
To many people, the superfluous is necessary, The theater is necessary. Dance is necessary. Song is necessary. The arts are necessary. They are a necessary part of our lives.
President Obama did add a few of his own words like,
The men and women here tonight embody that idea. Tonight it is my honor to offer them the appreciation of a grateful nation.
Coming back to the good news, this year's Kennedy Center honorees include country-and-western singer-songwriter Merle Haggard; ex-Beatle Paul McCartney; veteran Broadway composer Jerry Herman; dancer and choreographer Bill T. Jones; and television host and actress Oprah Winfrey, a fellow Chicagoan and an early Obama supporter. Continue reading..