President Obama Admits Love For Oprah: Annual Kennedy Honors 2010
By Avik, Gaea News Network
Monday, December 6, 2010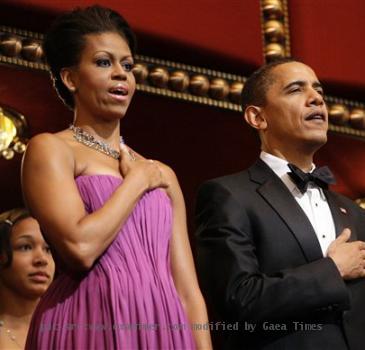 more images
WASHINGTON (GaeaTimes.com) — This year at the Kennedy Honors new things popped up all of a sudden. The president had trouble in pronouncing 'Superfluous' with his split lips. But nevertheless he enjoyed a lot.
According to Barack Obama,
Each of these honorees help us understand the human experience — to illuminate our past, to help us understand our present, and to give us the courage to face our future.
This was what he had to say for all the honorees at a reception in the East Room of the White House prior to the awards ceremony. Oh, well this uear among the list some highlights include country-and-western singer-songwriter Merle Haggard; ex-Beatle Paul McCartney; veteran Broadway composer Jerry Herman; dancer and choreographer Bill T. Jones; and television host and actress Oprah Winfrey, a fellow Chicagoan and an early Obama supporter.
The list of presidential guests included were actress Julia Roberts, Winfrey's friend Gayle King, actors Alec Baldwin and Sidney Poitier and singer and former Kennedy Center honoree Diana Ross.
As for the the reigning queen of daytime talk, the president kep it sweet and simple,
Michelle and I love Oprah..
Well, Winfrey also seemed to have been moved by the recognition she was given, It feels like you on your very best day, It feels like when every single thing in your life comes together in one moment to say, 'Wow. That actually happened for me.
Winfrey was also thrilled by president's words for her, she was found repeating herself,
He said he loved me