Ramjanmabhoomi Judgment Delivered
By Swatilekha Paul, Gaea News Network
Friday, October 1, 2010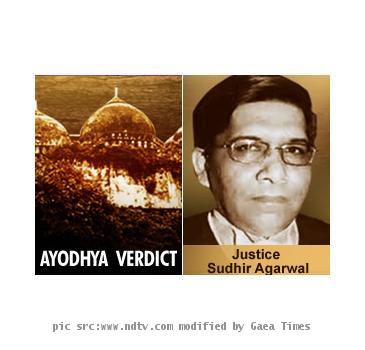 more images
LUCKNOW, INDIA (GaeaTimes.com)- The landmark Ramjanmabhoomi-Babri Masjid verdict was delivered on Thursday by a three-member panel of judges of the Allahabad High Court, finally providing a closure in the 60-year-old ownership dispute. The judgment that eagerly awaited with securities in states across the country being beefed up fearing any kind of violent religious backlash owing to the verdict. However, the judgment that was pronounced on Thursday afternoon by the court did not fuel religious backlash as it divided the disputed land into equal parts among the three main petitioner in the title suits which includes Sunni Wakf Board, Nirmohi Akhara and the party representing Ram Lalla. The decision of the Allahabad High Court to split the disputed land equally with each party getting one-third share of it has kept the doors open for further talks on this matter.
While delivering the judgment on the much-awaited Ramjanmabhoomi-Babri Masjid case, Justice Sudhir Agarwal stated that the portion of the land which is covered by the central dome is the birthplace of Lord Rama according to the 'faith and belief' of the Hindus while adding that it should not be 'obstructed or interfered' with any fashion whatsoever. Nevertheless, it was pointed that the portion within the courtyard belonged to both Hindus and Muslims given the fact that it was used by members of both the religion for centuries.
In the meanwhile, judgment in the Ramjanmabhoomi-Babri Masjid case has been welcomed by the major political parties although some of the Muslim leaders have hinted that the next step would be approaching the Supreme Court.