Ecuador: President Rafael Correa Brought To Safety
By Swatilekha Paul, Gaea News Network
Friday, October 1, 2010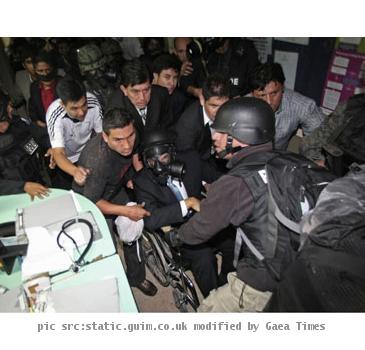 more images
QUITO (GaeaTimes.com)- Ecuadorean President Rafael Correa was hustled to safety by armed forces after he was trapped in a medical facility by rebelling police officials angered over a law passed by the Congress that cut down benefits given to them during promotions. The situation took a drastic turn on Thursday when president addressed the revolting cops in a speech that received a violent reaction while a tear gas cannister also exploded near him.
Following the violent reception that President Rafael Correa had to face from the rebelling police officers, he was taken to the National Police Hospital where he was trapped for about 12 hours. With the Ecuadorean president taking refuge in the medical facility, violent clashes broke out in the streets of the city of Quito as the rebelling police took control of the main international airport and even went on to storm the Congress. As the violent protests continued on the streets, large number of supporters of President Rafael Correa thronged the hospital as they vowed to bring him to safety and to their utter relief, soon the troops were able to rescue the 47-year-old leader. In the wake of the turmoil, a state of emergency was declared by the government while the military forces were given strict orders to bring the situation under control.
Following his rescue, President Rafael Correa expressed his gratitude towards the troops and the special operations unit of Ecuador as they remained loyal to their motherland and were able to protect the medical facility from the hostile mob present that was president outside. The Red Cross has revealed that at least two police officers were killed and 37 were wounded in the operation.